When looking to remodel your kitchen, choosing your countertops is one of the most impactful design choices that you will make. Since a countertop will serve as both a focal point and a functional element of whatever space you're remodeling in your home, selecting the material best suited for that space will be one of the determining factors in narrowing your options.
At Kitchen & Bath Center, we offer a wide variety of countertop materials with various colors that you can view in our design centers. Our team of experts can help you throughout your remodel project, from selecting the suitable materials for your budget to getting the proper measurements for your space.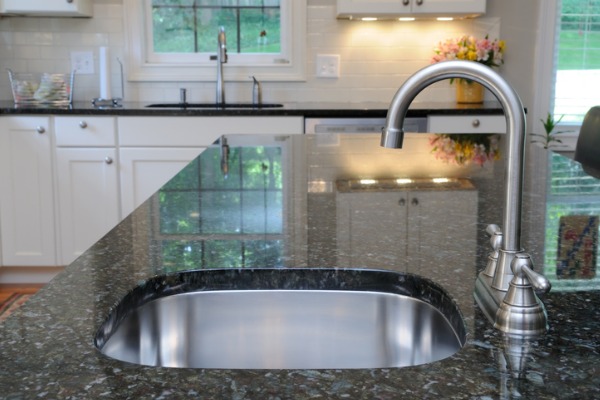 Granite
A timeless and popular option, granite is ideal for dry areas of your home that do not get significant amounts of direct sunlight. This naturally occurring product adds elegance to any space. Since granite is a natural stone, you can be sure that your countertops are one-of-a-kind. The wide variety of colors that we offer can be explored in our Slab Gallery.
Due to the porous nature of granite, it is not entirely resistant to scratches or heat damage. We do not recommend cutting directly on your countertops or placing hot items without a trivet. In addition to regularly cleaning your countertop with gentle soap and water, granite requires one or two sealant treatments per year as part of its maintenance. Granite is a cost-effective option that can increase the value of your home, so it is often seen as a long-term investment.
For DIY home improvement projects, a downside of granite is that it is not recommended for DIY renovations that lack professional assistance. The heavy stone must be supported and placed adequately, and slabs can often crack or be damaged beyond repair if improperly installed.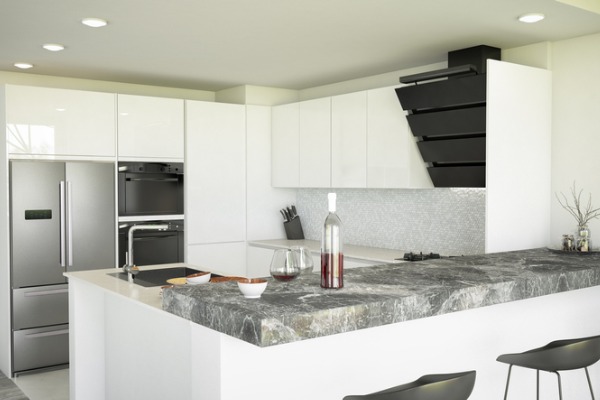 Marble
Marble is known for its beauty and durability, suiting modern and antique kitchen designs. Because marble is highly resistant to damage from heat, stains, and scratches, the natural and solid stone will be a fixture in your home for years to come.
For those who wish to install a white marble countertop, we recommend using them in bathrooms instead of kitchens. White marble is very susceptible to scratches, chips, stains, and cracks because they are very soft and porous. With these factors in mind, we strongly recommend avoiding the installation of white marble countertops in kitchens.
Our selection includes combination-stone slabs that contain dolomite, quartzite, and marble to offer more excellent durability with the same look as white marble. These combination-stone countertops are a great option for those looking for the appearance of white marble without its weaknesses.
Like granite, marble should only be installed with professional involvement to avoid damage to your marble countertop, cabinetry, or other parts of your kitchen.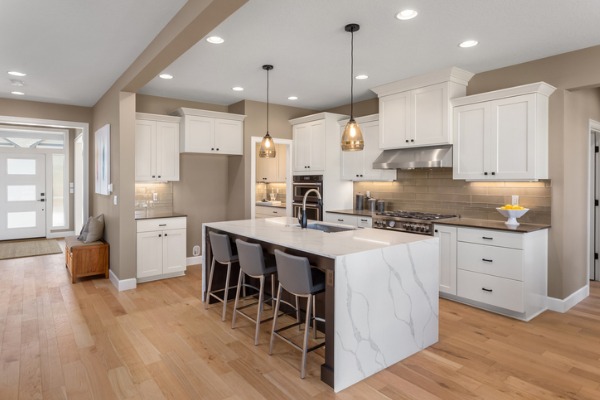 Quartz
Quartz is a manufactured countertop that mimics the look of natural stone while offering uniformity throughout an entire slab. The manufactured element also allows quartz countertops to provide a broader range of colors.
The sophistication, durability, and beauty of quartz make it a popular choice for kitchens and bathrooms. Quartz is non-porous, meaning there is no need to treat your countertop with sealants. This quality makes it easy to clean and resistant to scratches and heat damage. In many cases, quartz can mimic the appearance of a granite countertop without the typical maintenance costs or upkeep requirements of granite, quartzite, or marble.
If your quartz countertop may come in contact with warm or hot surfaces, use a trivet and avoid direct contact. Due to the resin component within quartz, your countertop may experience discoloration if subjected to direct heat.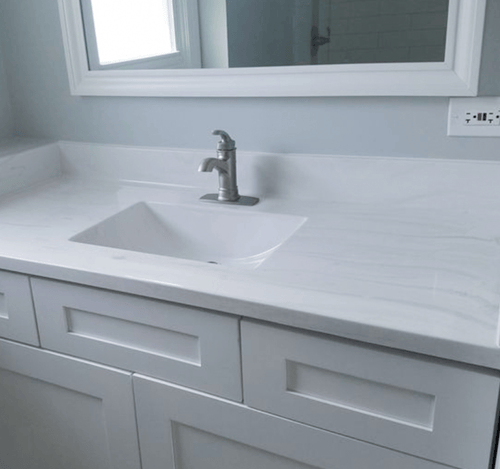 Cultured Marble
Cultured marble is another manufactured product that Kitchen & Bath Center proudly produces at our local manufacturing facility. While it is not resistant to scratches or heat, it makes an ideal material for bathrooms. We offer custom bathroom solutions, including showers, tubs, and vanity tops with integrated bowls. The panels can be seamless pieces up to 10' in length, making them less inviting to mold and dust that often accumulates in crevices and grout lines.
Cultured marble is very simple to maintain and comes in various colors. Cultured marble slabs are just as unique as natural stone, even though they are artificial. No two pieces of cultured marble are the same, so your home will have a one-of-a-kind look.
Besides its unique appearance, one of the most attractive features of cultured marble is that it is a low-cost option compared to quartz or granite. This beautiful product is an excellent option for bathroom remodels on a tighter budget that doesn't compromise the visual aspects of a project.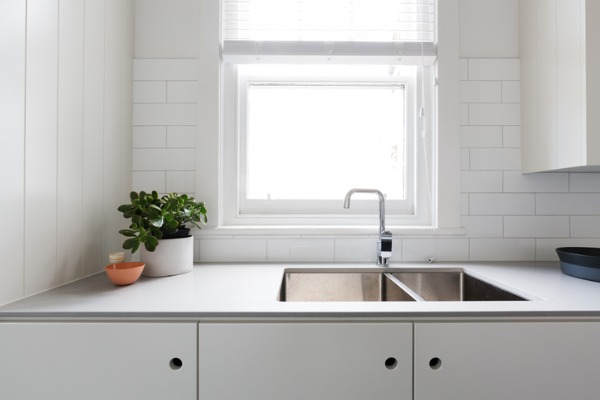 Laminate
This extremely affordable option comes in the widest range of colors, patterns, and textures. Laminate remains a popular option because of its reliable finish. For DIY home renovations, laminate countertops can be installed without professional assistance.
There are some limitations to the longevity of laminate because it is more prone to scratches, chips, and heat damage than stone countertops. Remember to clean your laminate regularly, avoid cutting anything directly on the counter, and place a trivet before putting down a hot pot to extend the life of your countertops.
To learn more about the countertop options at Kitchen & Bath Center, stop by any of our locations. Our team of experts is ready to help you with your next remodel!
DREAM IT. DESIGN IT. LIVE IT.

| Kitchen & Bath Center