New materials can completely change the look and feel of your condo. If you're getting ready to embark on a condo kitchen or condo bathroom remodel, first read our article on what you need to consider, and then start planning the renovation and choosing your materials. Here are the 10 best materials to use for a condo remodel: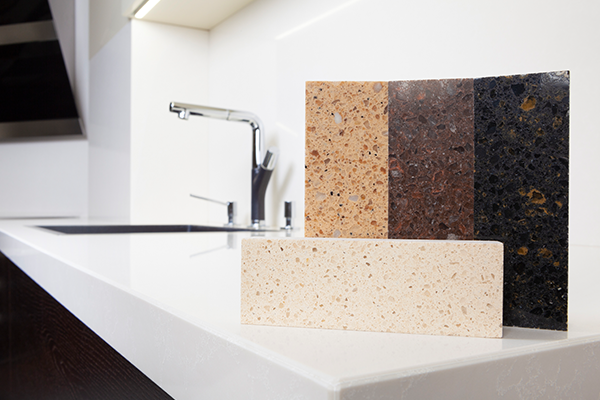 Quartz
Quartz is engineered for durability and attractiveness. It stands up to bacteria, germs, and the toughest of stains. Its hues and patterns can mimic the look of natural stone, while offering uniform beauty throughout the entire slab. Quartz is easy to maintain and comes in a rich range of color options, making it a great material for a condo countertop remodel. At Kitchen & Bath Center, we work with a number of quartz manufacturers, including MSI, Cambria, Ceasarstone, and more.
Marble
Known for its beauty, natural marble is an elegant choice for a condo remodel. Keep in mind, white marble can scratch, chip, stain, and crack easily, so this material might be a better fit for your unit's bathroom. We also offer marbles that are a combination of several different stones, making them a little more resilient than white marbles. These can be installed in your unit's kitchen due to their more resilient nature.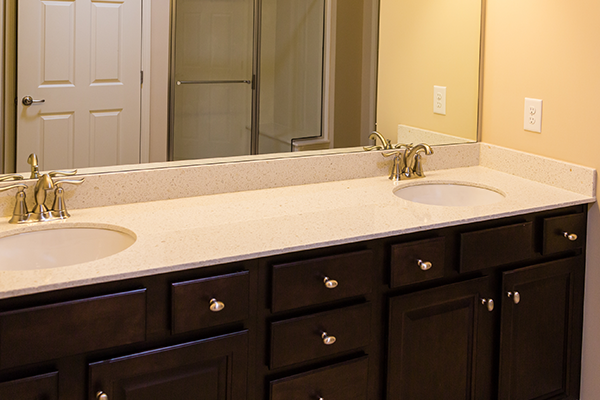 Cultured Marble
A cultured marble countertop can infuse timeless grace into any condo. It's enduring in its strength, luminous in its beauty, and offers ease of maintenance. At Kitchen & Bath Center, we manufacture, fabricate, and install all our own cultured marble. Learn more about this material and check out our color selections here.
Granite
Granite can add elegance and comfort to your condo. The natural beauty is simply striking, with colors that never fade. Every piece of granite is unique, which can add depth, character, and value to your unit. We work with top granite manufacturers such as MSI and Easy Stones.
Wood
Wood floors can add beauty, warmth, and value to your condo. Wood is available in varieties ranging from classic oak and cherry to exotic options like bamboo and mahogany. This is one of the most flexible materials to use when designing your condo. Check out our manufacturers here.
Stone
Stone is another great material option for condo flooring, which can add a natural, rustic beauty. It offers fashionable finishes, and it can stand up to heavy traffic demands, making it a smart choice for your unit. Some of our stone manufacturers include Bella Ceramics, Cosba, MSI, and Florida Tile.
Laminate
Laminate is down-to-earth and inviting, making it a classic choice for a condo remodel. This material comes in endless colors, textures, and patters. Laminate is cost-effective, making it a great option for those remodeling their unit on a budget. Our laminate manufacturer is Wilsonart, which offers industry-leading design selections and lasting performance.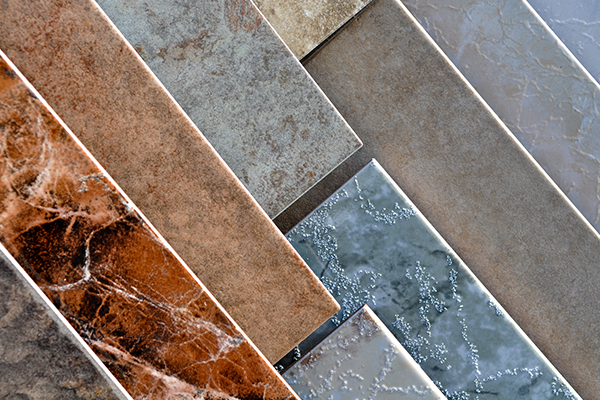 Tile
Tile is one of the most popular flooring materials because of the enormous array of colors, styles, and finishes that it comes in. Tile is also durable, making it a reliable material for a condo kitchen or bathroom. We work with a host of tile manufacturers, making it easy to achieve the tile flooring of your dreams during the condo remodel process.
LVP/LVT
Luxury vinyl planks/tiles (LVP/LVT) flooring has soared in popularity because of its real look, inspired by natural stone and hardwood, combined with its scratch, stain, and water resistance. Its warm, textured look, cost-effectiveness, and ease of installation makes this flooring material an excellent choice for a condo remodel. Our LVP/LVT manufacturers include Compass Flooring, Mannington, MSI, and more. View our LVT flooring special here.
Glass can add sophistication to any condo remodel, making it a great material option for cabinets, embellishments, and more. Incorporating a glass element into your unit can take your renovation to a whole new level, adding an elegant touch to a condo kitchen or bathroom.
Ready to remodel your condo?
Remodeling a condo generally requires more time due to logistics, size constrains, timeframe constraints, noise restrictions, and COA/HOA restrictions. Kitchen & Bath Center can help you through the entire condo remodel process, helping you achieve the unit of your dreams! Get in touch.
DREAM IT. DESIGN IT. LIVE IT.

| Kitchen & Bath Center