Cultured marble is made when crushed stones are bound together with resin to create a beautiful, natural-looking material. It is created in molds to produce elegant and unique pieces for your next home renovation project. We proudly make cultured marble in our Fort Walton Beach manufacturing facility.
Where to use cultured marble
While not recommended for kitchen use, cultured marble is ideal for any bathroom or vanity project. It can be used for:
Showers

Tubs

Vanity tops

Backsplashes

Shower panels

Windowsills

And more!
The Benefits of Cultured Marble
1. Appearance
The sought-after patterns and veining found in natural stone can be recreated during the casting process. Also, since cultured marble is hand-made, you can pre-select the colors you want in your design. There are dozens of options for cultured marble colors. From Black Spice to Bermuda Coral, the hardest decision you'll have to make with us is choosing your favorite color!
2. Durability
Since cultured marble is nonporous, you do not need to worry about stains and chips. Cultured marble is made of nonporous elements that make it durable. Of the materials you can remodel with, it is the least susceptible to typical damage. The solid-surface material resists stains and chips, and a gel compound can generally repair minor blemishes.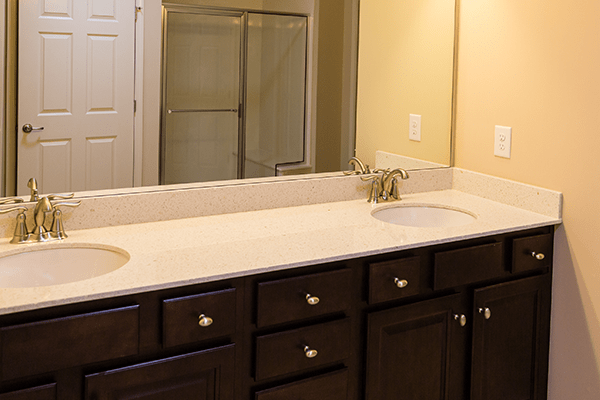 3. Low maintenance
The same nonporous elements that make cultured marble durable are also low maintenance. Cleaning your cultured marble with a non-abrasive, standard household cleaner will keep it fresh and streak-free.
Polishing your cultured marble vanity top can keep it shiny and looking brand new. We offer a variety of cultured marble polishes, and our experts can give you tips on maintaining your cultured marble for years to come.
Above is an example of a cultured marble shower we created to resemble subway tiles. The great thing about this material is that it can be formed in one piece and installed without grout, so cleaning is a breeze without grout lines.
4. Budget-friendly
Cultured marble is more cost-effective than granite, marble, or quartz. Even though you'll save money by choosing it, cultured marble will still add value to your home like traditional stone would.
Because cultured marble is much lighter and specifically designed for each project, installation costs are significantly lower than natural marble.

5. Unique
Since our team carefully makes every piece of cultured marble, each piece is a one-of-a-kind product. Not only can you customize the piece's colors, style, and size, but you can proudly show off your project's unique aesthetic to anyone who comes to your home.
Cultured marble examples
We have many examples of cultured marble in our local showrooms and samples for all our colors.
Stop by a Kitchen and Bath Center location or check out our Cultured Marble page to learn more from our team of experts.
DREAM IT. DESIGN IT. LIVE IT.

| Kitchen & Bath Center