Home bars are a very popular kitchen remodel item these days. For homeowners hoping to embark on a home bar remodel, it's important to consider the overall design. Whether you're remodeling an existing bar or installing a new one, these ideas will come in handy.
Types of home bars
One of the first things you need to think about when planning the remodel is what type of home bar you want in your kitchen. There are various styles of home bars that you can choose from. Here are four of the most popular options to consider for a kitchen remodel:
Kitchen island home bar

: The kitchen island home bar is exactly what it sounds like. This type of bar is a part of your kitchen island, located in the center of your space. Open face or traditional cabinets can be installed underneath the island countertop to store glassware, liquor, wine bottles, and more. You can also style your kitchen island home bar with racks that hang from the ceiling (the perfect place to put glasses or bottles on display).

Wall home bar

: Another popular option is a home bar that is installed against one of the kitchen walls. These can be small or large, but they are often made up of a strip of countertop combined with either a glass cabinet or open shelving above the bar top. The bar top serves as the cocktail-making space, while the cabinet or shelving serves as storage for all your bar accessories.

Built-in cabinet home bar

: A more unique option for a kitchen is the built-in cabinet home bar. This style is meant to blend into the space, giving you the option to keep the cabinet open or closed depending on whether you want the bar on display at various times. This home bar is entirely housed in a cabinet, built into the kitchen wall.

Classic wrap around home bar

: For tried and true bar lovers, a classic home bar installation might be just what you're looking for. These are typically made of wood, and they are placed in a way that leaves room between the wall and bar top for people to stand behind. Usually, the classic wrap around bar has shelving and/or cabinets installed on the side facing the wall for storage.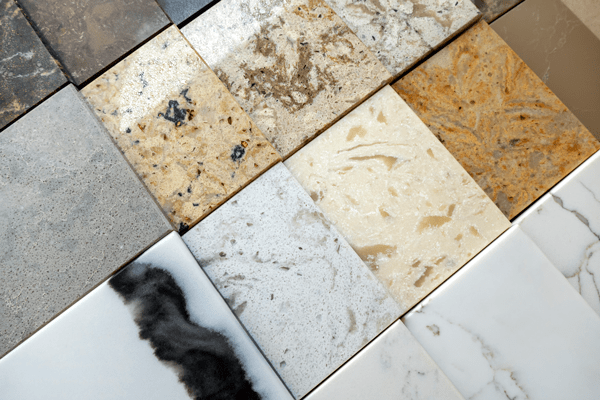 Bar top materials
You can go many different directions with your bar top, and the material you choose will have a big impact on the overall look. Some of the most popular bar top materials to consider include:
Granite

Laminate

Wood

Quartz

Marble

Stainless steel
You can use a combination of materials for your bar as a whole but choosing the bar top material first may help you style the rest of the piece.
The function of the home bar
Once you settle on the type of home bar you wish to install or remodel, consider its function and which additions might be helpful. Many homeowners opt for a wet bar, adding a small sink to the countertop for easy rinsing and cleaning. A wet bar is a great option for homeowners who plan to make lots of mixed drinks that require various ingredients and garnishes.
Another home bar addition that can help with functionality is a built-in wine cooler. This is a better option for homeowners who are planning to use the bar mostly for wine, champagne, beer, and other similar drinks. Adding a built-in wine cooler will help keep your drinks easily accessible within the bar itself.
If your home bar is meant to be the focal point in your kitchen, you might also consider adding a unique design element. This can be done through a decorative addition like an ornate glass cabinet, a turnstile for glasses, or a wine rack. It can also be achieved by painting the cabinets of the home bar with a color that pops or using a unique material or coloration for the cabinets and bar top.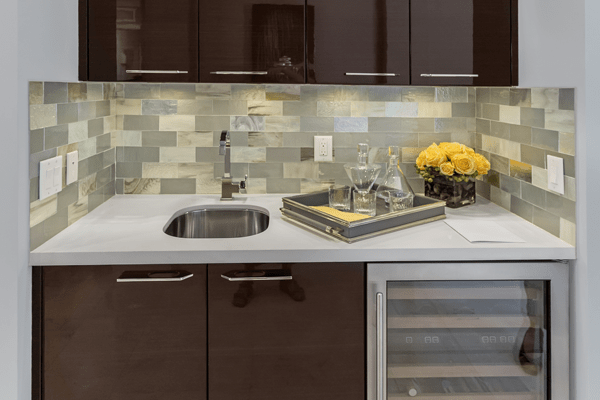 Get help with a home bar remodel
At Kitchen & Bath Center, we've helped many homeowners remodel or install the home bar of their dreams. We offer a wide selection of countertop materials, cabinetry, hardware, and more, which can help make your custom bar one-of-a-kind! Our Project Managers also have the expertise to help you through the entire kitchen remodeling process. Contact Us today to get started.
DREAM IT. DESIGN IT. LIVE IT.

| Kitchen & Bath Center