When you're preparing for a bathroom remodel, the endless possibilities can be exciting and overwhelming. Selecting a material for your floor is one of the most important decisions in this process, and there are several great options that each have pros and cons. Here are three different flooring materials we recommend for your bathroom.

Tile
Thanks to its wide variety of appearances and dependable durability, tile is one of the most popular materials for bathrooms. The two most common types of tiles are ceramic and porcelain. The main difference between the two is that porcelain has a lower water absorption rate, but the difference is not very noticeable. Porcelain and ceramic tiles are both waterproof and easy to clean, but we typically recommend using porcelain tiles for your bathroom flooring.
Some of the drawbacks of tile flooring relate to discomfort. Tile is inherently a cold, hard material, so it can be uncomfortable to stand on and may be slippery when wet. These drawbacks can be minimized with the installation of a heated floor and the use of a slip-resistant tile texture.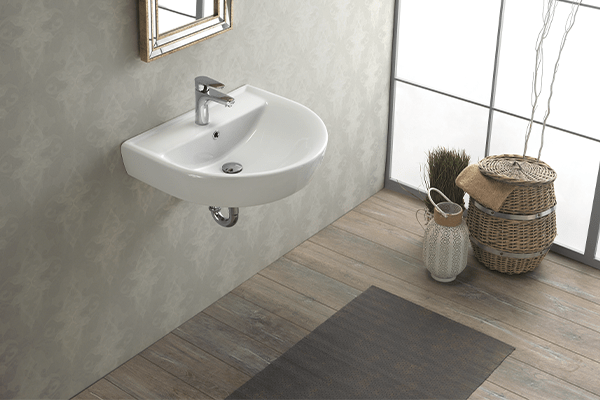 Luxury vinyl plank/tile
Luxury vinyl plank (LVP) and luxury vinyl tile (LVT) floors are a new and popular option for your bathroom remodel. LVP/LVT floors are manufactured materials that recreate the appearance of natural stone or hardwood with a variety of custom finishes. With an LVP/LVT floor, you can give your bathroom floor a luxurious look at a fraction of the cost.
Unlike true hardwood floors, LVP/LVT floors that look like hardwood are great for your bathroom since they are easier to install, waterproof, and easier to clean. A big advantage is that the material is more resistant to dents, stains, and scratches. Here at Kitchen & Bath Center, we like to call LVP/LVT a life-proof material!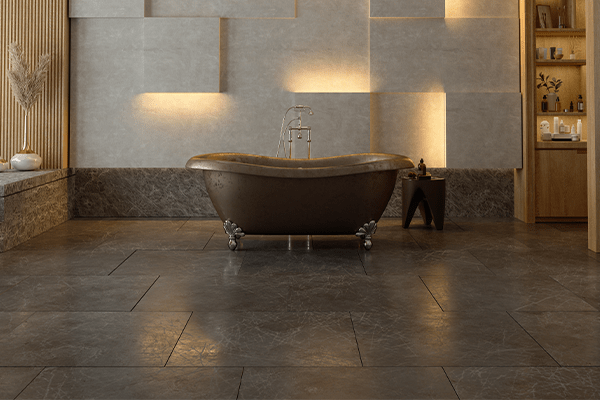 Stone
Stone is a natural, rustic flooring option that is a classic choice for your bathroom floor. Typical stone materials that are used for floors include marble, travertine, color body porcelains, and unglazed mosaics. No two stone floors are the same because of each piece's unique texture, and the material adds significant value to your home. A sealant or other finishing treatment can help to maintain the quality of your stone floor.
A stone floor gives your bathroom a fashionable finish but is a considerable investment that needs more maintenance. Certain types of stone can absorb more water than others, and stones can be very slippery. A sandblasting treatment can give slippery stone floors more texture, and certain stones are naturally less slippery. The biggest deterrent to using stone for your bathroom floor remodel is the cost. Because it is a limited resource, stone is one of the most expensive options for flooring.
Ask the experts
Our staff at Kitchen & Bath Center are committed to bringing your remodel dreams to life. We have the expertise and knowledge needed to help you navigate your next remodel, from selecting materials to enjoying the finished product. Call or stop by one of our showrooms to get started today!
DREAM IT. DESIGN IT. LIVE IT.

| Kitchen & Bath Center