Choosing a coordinating kitchen countertop and backsplash isn't rocket science, but it's also not as easy as 1, 2, 3. Complimentary colors alone won't always lead to a perfect match. You must also consider patterns, movement, and sheen to create a matching countertop and backsplash look that you'll truly love.
Most experts will advise you to choose your kitchen countertop before your backsplash. This is because your countertop is typically a more significant investment than your backsplash. It is what will get the most use, and it is one of the most visible features in your kitchen.
From a practical standpoint, your kitchen countertop must also be installed first. Once it is in place, you can then take home sample backsplash tiles and double-check how they look with the countertops, cabinetry, and fixtures. You can also get an idea as to how they look in different lighting in your kitchen throughout the day.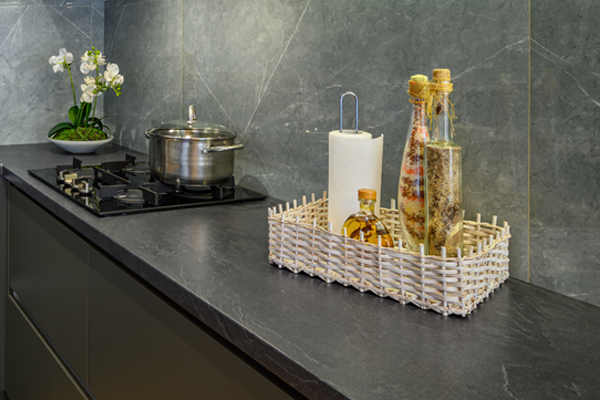 Colors
Countertop and backsplash colors should complement one another. Consider using a color wheel to help evaluate your options since it shows you what colors blend nicely together.
Some homeowners will choose a backsplash tile that includes a color that matches the veins or spots of color in their countertop. This can be a great option if you also consider the patterns and movement in the kitchen countertop and backsplash tile. You don't want them to compete with one another. Get more kitchen backsplash ideas here.
If you have a countertop with a lot of movement in it, which is especially common with granite countertops, consider a more subdued backsplash, so your eyes have somewhere to rest. If your countertop is uniform and neutral, feel free to amp up the backsplash with a burst of color or more intricate tile patterns.
If your kitchen countertop has different patterns and movement but the backsplash tile you love also has a busy design, then try matching the color palettes. This will ensure the countertop and backsplash feel more cohesive rather than competing with one another in both pattern and color.
Another option is to run your kitchen countertop onto the backsplash. This creates a sleek, clean, uniform look, and it can be an economical choice if you have countertop material left over.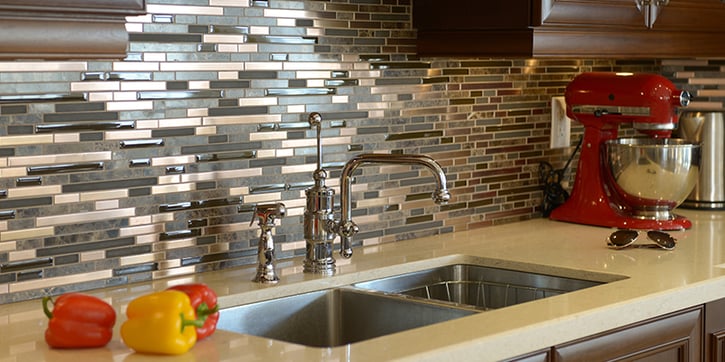 Materials
The purpose of your kitchen backsplash is to protect your walls from spills, splatters, mildew, and mold. Keep that in mind when you choose materials—they are going to get messy. Make sure whatever material you choose can be cleaned easily with a damp cloth or sponge.
If you select larger-size tiles, you'll have to use less grout, which means fewer joints and less cleaning. You should also note that some backsplash materials need more maintenance than others. Natural stone kitchen backsplashes will need to be cleaned and sealed periodically – probably about twice a year. Some homeowners like the sheen of their kitchen countertop and backsplash to match – meaning if their countertop has a high-gloss finish, they also want shine in their backsplash.
Do you still have questions? Come visit our showrooms for inspiration and talk to our experts. Let us help you turn your kitchen into your favorite room in your home.
DREAM IT. DESIGN IT. LIVE IT.

| Kitchen & Bath Center