Are you looking for that "wow" factor in your new kitchen? Consider adding a backsplash that doubles as a work-of-art, literally.

The backsplash is that area of your kitchen wall above the counters and below the upper cabinets or the ventilation hood. Backsplashes started for functional purposes — to keep grease, water, and food splatters from ruining the kitchen walls.

However, today, using the trendiest materials, from ceramic tile to glass, homeowners are turning to artisans and designers who are creating custom backsplashes in images such as Tuscan landscapes, beach scenes, florals, geometric abstracts, vineyard views and much more.

Not into imagery? No problem. Choose tile and stone options that allow you to create subtle texture to your walls, add glimmer and shine, create intricate interlocking designs, create playful or whimsical designs and even add gradients to infuse movement into your walls.

So yes, while white subway tile is undoubtedly an excellent, functional and cost-effective choice for a kitchen backsplash, backsplashes today are limited only by the homeowner's imagination (and budget). Here are just a few ideas to get your creative juices flowing.
Imagery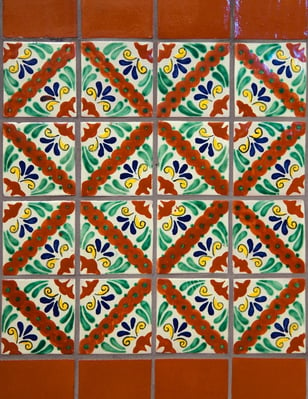 Create a unique focal point on your kitchen backsplash with fine art murals and accents.
Bold Colors
Bold colors bring vibrancy and punch to your kitchen décor.
Textures
For a more dramatic look, consider a backsplash that adds depth and texture.
Geometric Patterns
A bold, modern option is to utilize geometric patterns in your backsplash.
To see more, visit one of our showrooms and start planning your dream kitchen today.
DREAM IT. DESIGN IT. LIVE IT.

| Kitchen & Bath Center