Spending time in the bathroom for relaxation is becoming an increasingly popular trend. For those with hectic lives, the restroom has become a place for just that— rest. There are several small steps you can take to turn your bathroom into your own, private sanctuary.
Step One: Nature
If you are a person that finds peace in nature, this is a big one. Adding some flowers or greenery to your bathroom can help you achieve the same tranquil feeling you get outdoors. This is also a helpful tip for those on a budget. You don't need a green thumb to incorporate nature into your bathroom. Try adding some small fake plants to get started.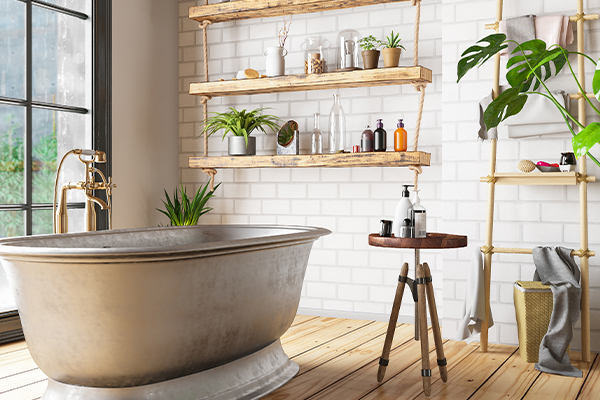 Step Two: Decluttering
No one likes a mess. Consider adding storage to your bathroom to declutter the space. When you look around the room, it should feel clean and comfortable. If you are obsessing over toiletry items sitting on countertops or towels strewn about, it will be harder to relax. Consider adding built-in shelves or storage containers to help clear the space for your oasis.
Step Three: Colors
If you want to make your bathroom feel like a sanctuary, consider using colors that you associate with paradise. Adding a pop of color—blue, green, yellow, or otherwise—can give your bathroom a calming atmosphere. You can achieve this by repainting or resurfacing an accent wall, or by adding simple décor such as pictures, knick-knacks, or candles.
Step Four: Natural and Light
When redecorating or remodeling your bathroom, think natural and light. Materials like marble or granite can give your bathroom a more natural look. If you are on a budget, try using wood or stone as an accent feature. These materials can be incorporated into your sink or vanity, or as a decorative piece.
Adding some natural light to the space can also help you achieve the bathroom of your dreams. If natural light is not a possibility, try adding mirrors or reflective surfaces instead. Consider putting in light fixtures or lamps to create ambient lighting at night.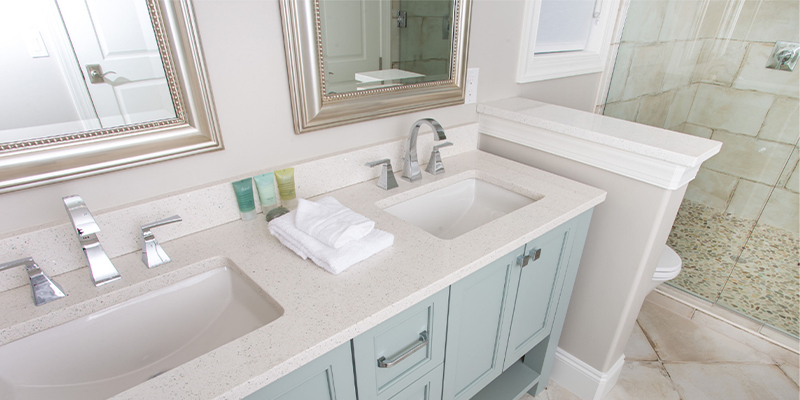 Step Five: Mood Pieces
Every bathroom sanctuary needs a mood piece. Indulge yourself with a rain shower or heated floors. If you are open to spending more, consider building in a fireplace to create a cozier feeling. If you are on a budget, try something simple and cost-effective. You can easily center a section of the bathroom around essential oils and spa items to set the mood.
DREAM IT. DESIGN IT. LIVE IT.

| Kitchen & Bath Center