A rustic remodel can take your bathroom from drab and deary to tranquil and comforting. If you've decided to go with a rustic design for your bathroom remodel, there are a few ways you can bring this theme to life. Turn your bathroom into a rustic oasis with these 5 ideas: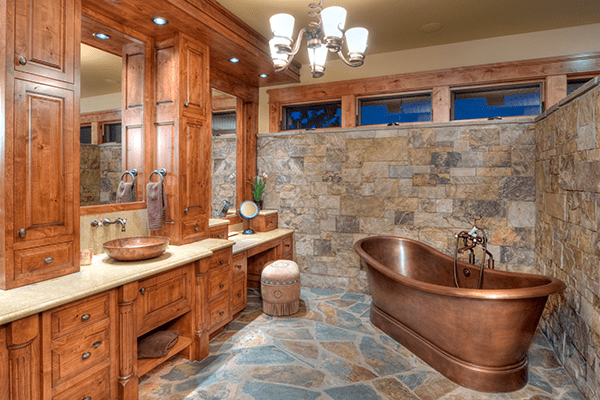 1. Design with natural & industrial style materials
Natural materials like wood and brick are key to creating a rustic bathroom design. You can incorporate these materials into larger remodel items such as walls, flooring, and furnishings, as well as smaller items like cabinets, mirror frames, shelving, and more. Industrial style materials, such as metal, iron, and copper, can also help you create a rustic look. Try weaving these materials into your sink, bathtub, lighting, and handles.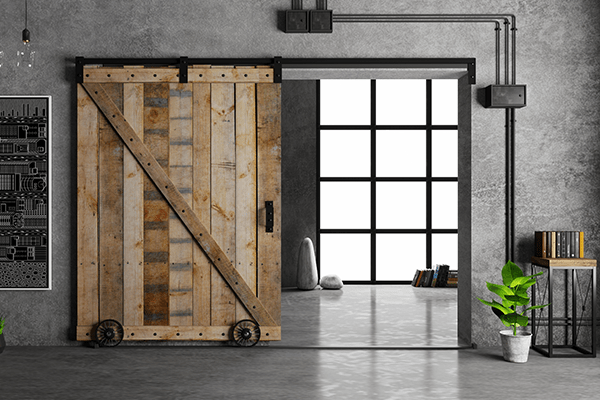 2. Install a barn door
Sliding barn doors can bring rustic beauty to any bathroom. This remodel idea works especially well for master baths, in which the bathroom needs to be separated from the bedroom. Barn doors come in a variety of colors and patterns, making it easy to design this element to fit in with both sides of the space. Depending on the size of your bathroom, you may choose to install double barn doors or a single.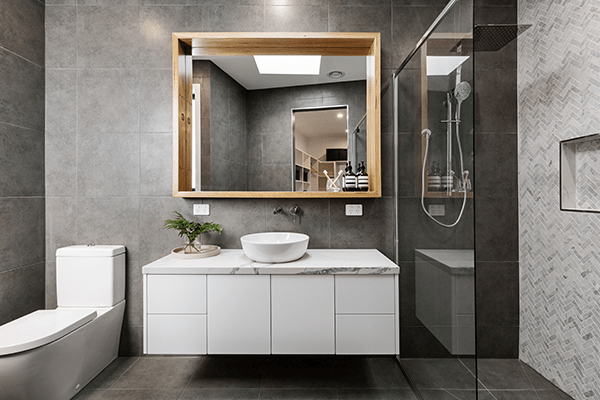 3. Add a rustic vanity
To create a rustic vanity for your bathroom, start with a natural wood or metal base and cabinetry. You can bring this design to life with a small vessel sink, which is a basin that sits on top of the bathroom vanity or counter, rather than a traditional drop-in or under-mount. Another option for your sink is to install a metal or copper washbasin. Lastly, consider adding an oversized, wooden or brick framed mirror to go over the sink.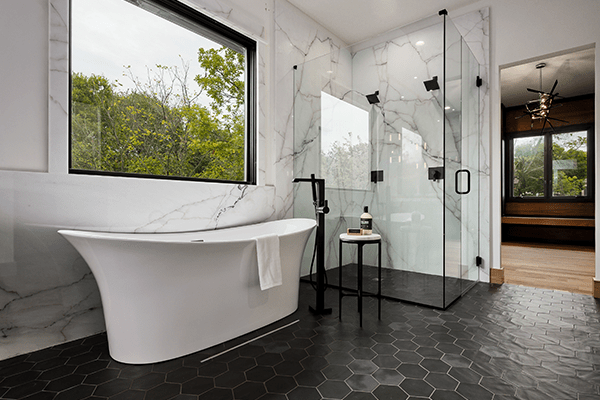 4. Opt for a soaking tub
A small, standalone bathtub may not be for everyone, but it sure does complement rustic bathroom design. This farmhouse style addition can add an old-timey feel to the space, bringing the whole room together. Some popular materials for a rustic freestanding soaking tub include metal and copper.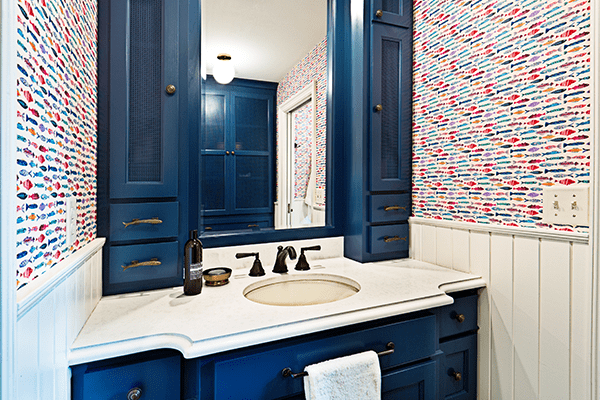 5. Lean into rustic hardware & embellishments
Choosing matte black, metal, or copper hardware for elements like your shower and sink faucets, drawer handles, and light fixtures, can make a huge difference for your rustic bathroom design. You can also use these materials to design embellishments like a small shelf, cabinet, towel rack, vanity chair, and more.
It's time to design the rustic bathroom of your dreams
At Kitchen & Bath Center, we're the experts on bathroom remodels. Our Project Managers work with numerous manufacturers and contractors to help you get exactly what you want. Stop by one of our showrooms to get started with your bathroom remodel today.
DREAM IT. DESIGN IT. LIVE IT.

| Kitchen & Bath Center