LVT and LVP aren't the latest texting abbreviations. They're the newest flooring products making a mark in the remodel world: luxury vinyl tile and luxury vinyl planks. Luxury vinyl is a flooring material that can be manufactured to recreate some of your favorite flooring styles at a fraction of the price!
Luxury vinyl flooring is unique in that it can have the appearance of real wood or stone, which can be enhanced with one of dozens of realistic finishes and textures. Whether you are wanting multiple widths or the latest washed technique for your flooring, luxury vinyl is an exceptional option.
Luxury vinyl is available in planks and tiles so homeowners can create unique patterns, such as a chevron or herringbone design. Some styles can even be installed in your home with grout, creating an incredibly realistic finish.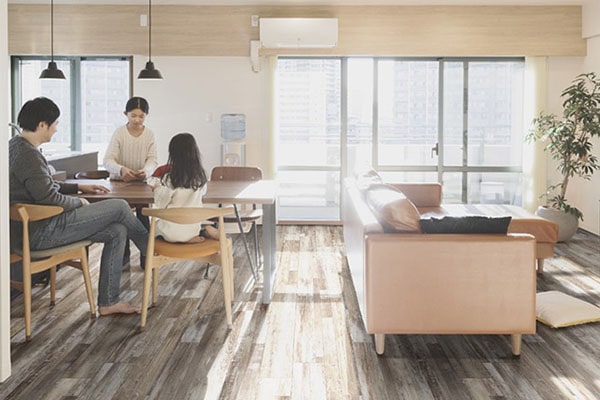 WHAT IS LUXURY VINYL MADE OF?
LVT and LVP flooring are made of several layers of materials that are fused together through heat and pressure. They generally consist of four layers, the first two being a cushioned backing and a high-density core.
Next is the all-important vinyl print layer, which can now be manufactured (thanks to advanced printing technology) with realistic 3D visuals to look just like ceramic or stone.
Finally, there is a transparent, protective coating laid on top. The product can then be run under rollers to engrave a texture onto the surface and scraped for an even more realistic finish.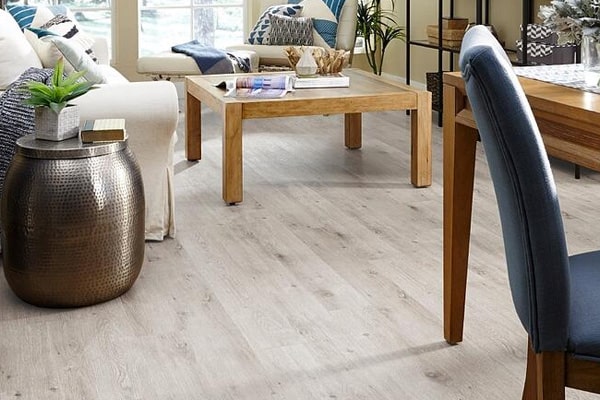 THE ADVANTAGES OF LVT/LVP
There are many reasons why homeowners are falling in love with luxury vinyl tile and planks. In addition to the flooring's beauty, LVT/LVP stands up to the demands of everyday life. Because it's waterproof, dent/stain resistant, and easy to clean, we call it "life proof!"
Installation of LVT and LVP flooring is not nearly as time-consuming nor as permanent as hardwood or stone. It can be quickly and easily installed, either through a loose-lay, click and lock system, or by gluing it down. Because it is pliable, LVT/LVP can be installed directly on top of existing flooring or a slab of plywood-subfloor, in most situations. It's also much easier to cut to fit cleanly around corners.
With all its performance benefits and the lower cost, it's easy to see why luxury vinyl has quickly become a trend-setter in the flooring industry. Reach out to our team if you have questions about installing LVT or LVP in your home, and we'll be happy to help you explore the myriad of options.
DREAM IT. DESIGN IT. LIVE IT.

| Kitchen & Bath Center