Tile is one of the most popular and versatile materials to use in your bathroom shower. Many homeowners update their bathroom shower tiles every 10 to 15 years to keep up with the latest trends in home design, as well as keep their shower looking clean and bright. If you are about to embark on a shower remodel using tile, here are some aspects to keep in mind.
Tile materials
Shower tiles come in a variety of materials ranging from naturally occurring products to manufactured ones. Common features that homeowners look for in tile include slip resistance, water resistance, and appropriate sizes.
Ceramic tile
Ceramic tile is made from a mixture of natural clay, sand, water, and sometimes feldspar or quartz. It is durable and resilient to water. It can be glazed or unglazed, but glazed usually isn't best for a shower. Unglazed tile is more slip-resistant in wet areas.
Porcelain tile
Porcelain tile is also made from a mixture of natural clay, sand, water, and sometimes feldspar or quartz. The main difference between ceramic and porcelain tile is that the natural clay in porcelain tile is much denser. This makes the tile impervious to water absorption. Additional resiliency is particularly important in outdoor applications because porcelain tiles are frost resistant.
Stone tile
Natural stone tiles include marble, onyx, granite, slate, limestone, or travertine. This material has varying degrees of porousness, so sometimes it requires regular sealing for use in a damp environment. Faux stone material, such as cultured marble, is another popular option for showers because it doesn't require grouting or sealing.
Glass tile
Glass tile is made up of glass formed into consistent shapes. Some glass tiles are eco-friendly, made of sand and recycled glass. Glass tiles reflect light, which can make a small shower feel bright and airy. They are resistant to water, but can still be slick, so they aren't commonly installed on shower floors.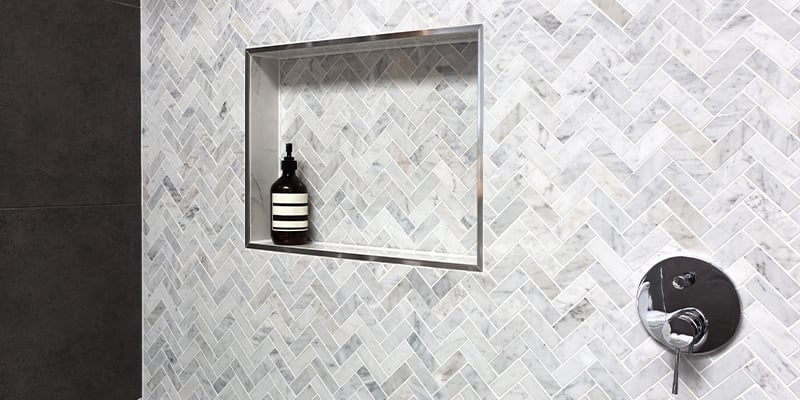 Tile shapes and patterns
Shower tile shapes and patterns are limited only by your imagination and budget.
Rectangular tile
Rectangular subway tile is a familiar shape that has stood the test of time. It is still extremely popular in home décor today. Rectangular tiles can be arranged in all types of patterns to create dramatic and beautiful showers. Tile patterns include brick, straight stack, basketweave, or vertical. You can also use rectangular tiles with a parallelogram cut to create herringbone or diamond patterns.
Square tile
Square tiles are beautiful and straightforward. They can be arranged in a vertical stack or offset pattern. Square tiles can also be set at a 45-degree angle, allowing the creation of a harlequin pattern, which can make a small space seem larger.
Hexagon tile
Hexagon-shaped tiles are a trend that designers and homeowners love. These six-sided tiles create texture, and you can contrast grout with the tile, creating a pattern that mimics the look of a textile. Hexagon tiles are often mixed with square tiles to create beautiful accents in the shower, but they can also be used across an entire wall for a dramatic effect.
Penny round tile
Penny round tiles are small, rounded tiles, usually installed on a sheet. Their small size makes them suitable for curved walls or shower floors.
Plank tile
Plank tiles are rectangular but longer than traditional rectangular tiles. Generally, plank tiles are 24", 36", or 48" in length. They look more like a plank of wood in their shape, not necessarily in their finish. Plank tiles work well in horizontal, offset, herringbone, and chevron patterns.
Specialty tile
Specialty tiles include those cut in shapes like diamonds, triangles, fan or fish scales, arabesque cuts, ogees, and much more. Specialty tiles are more expensive, so depending on your budget, you may only be able to use them as an accent in your shower.
You can also mix-and-match tile shapes and sizes to create patterns such as pinwheel, windmill, basketweave, and Versailles, which all create eye-catching designs using varying sizes and shapes of tiles.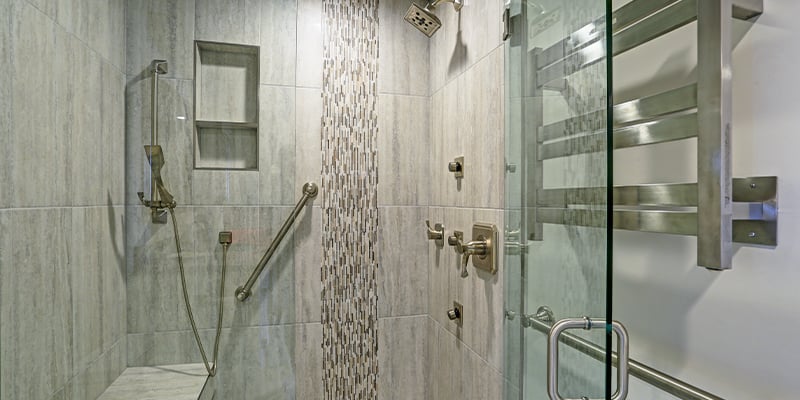 Tile Sizes
For each shape, tile sizes can vary widely. Using larger tiles means fewer grout lines. Some homeowners prefer this look in small spaces, while others feel like the larger tiles look out-of-proportion in a small space. There is no right or wrong answer. It's important to take some sample tiles home to make sure you are happy with the final look.
Seek Expert's Advice
Contrary to popular belief, tiles and grout joints are not inherently waterproof. To provide you with the highest quality possible, Kitchen & Bath Center utilizes Schluter products for full waterproofing and shower customization.
Your bathroom shower is one of the hardest working areas of your home. To start the shower remodel process, browse renovation ideas on our site, visit one of our showrooms for inspiration, or speak with one of our project managers. We can help you create the tiled shower of your dreams!
DREAM IT. DESIGN IT. LIVE IT.

| Kitchen & Bath Center