Tub to shower conversions are becoming an increasingly popular bathroom remodel trend for homeowners. Whether you want to do this remodel because soaking in a warm bathtub is no longer part of your busy life, or you're a veteran in need of assistance, Kitchen & Bath Center can help you each step of the way!
Converting your existing tub into a shower takes some planning, a bit of hard work, and education on the products available to you. With our years of experience, the Project Managers at Kitchen & Bath Center have found that the most economical and functional product for a tub-to-shower conversion is cultured marble.
Cultured marble is a man-made product
It consists of resin, dust, and color pigmentations. While cultured marble is not recommended for the kitchen, it is ideal for all bathroom applications, including showers, tubs, vanity tops, and more. Cultured marble comes in a broad range of colors, patterns, and shapes at Kitchen & Bath Center. Each piece is unique. Our cultured marble tub-to-shower conversions start as low as $7,945.
Be thorough during the tub to shower conversion process
It's important to remember that if you only cover up your existing shower, you won't be certain of what you're hiding as far as mold and mildew. We recommend replacing everything up to the wood framing during a tub to shower conversion. This gives you the opportunity to inspect any issues that need to be corrected before installing the new shower pan and wall material. With proper planning, the tub to shower conversion can be completed correctly in two to three days.
Tub to shower conversion steps
Removal and disposal of existing material

Install new shower pan and sheet rock

Install new plumbing fixtures

Install new shower wall material

Cultured marble can be completed in one day

Depending on how intricate the tile work needs to be, a tile shower can be completed in a day or more

Complete the new plumbing fixtures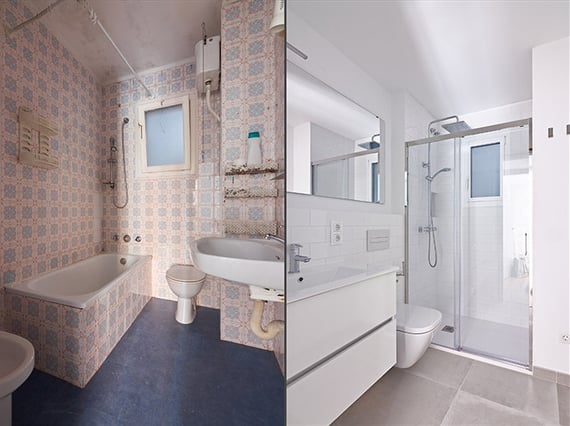 In the end, whether you are ready to kiss your soaking days good-bye or need assistance when bathing, we can offer you a simple tub to shower conversion experience that you will enjoy for years to come. If you're looking to do a big revamp, we can also help with every step of the bathroom remodeling process.
If you're ready to update your tub, contact our experts at Kitchen & Bath Center today!
DREAM IT. DESIGN IT. LIVE IT.

| Kitchen & Bath Center