An unorganized kitchen can cause stress and anxiety for many. Being able to cook and eat with ease is important to most homeowners. If a cluttered kitchen is part of what sparked your interest in a kitchen remodel, there are several ways you can renovate with organization in mind.
Add open shelves
Traditional kitchen cabinets are great, but mixing in some open shelves might help you find commonly used items more quickly and easily. Open shelves look good almost anywhere in the kitchen. They can be installed above your kitchen countertop, next to cabinets, or in open space.
The placement of open shelves can help you decide what items to store there. If your open shelves are over the counter, you might house things like sugar, cups, or bowls. Alternatively, if they are placed in open space, you might store decorative items like candles, plants, or books.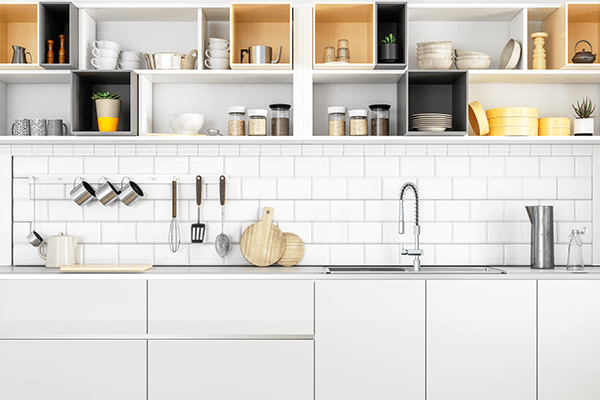 Try built-in appliances
You can optimize storage space with built-in appliances. This works for smaller kitchen appliances you may not have thought of, such as microwaves and coffee makers. Hiding appliances in cabinets and drawers is a great tool for organization in the kitchen.
If this idea appeals to you, you might want to look into implementing a concealed kitchen design. This kitchen layout is becoming increasingly popular, especially for people living in apartments, condominiums, or small homes.
Get creative with drawers
If organization is top of mind for you, drawer design should be a major part of your kitchen remodel. Here are 5 ideas to remodel or renovate your kitchen drawers to reduce clutter:
Add utensil inserts or buckets

Install corner drawers

Try custom cabinetry inserts

Install a drawer under the sink or next to cabinets

Use adjustable dividers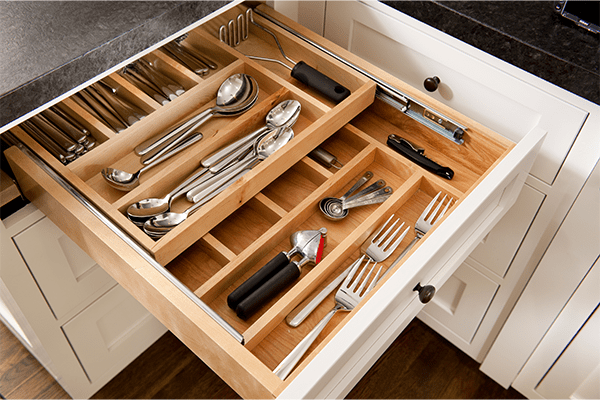 Install a hanging rack
Many homeowners know the annoyance of having to lean down to sort through pots and pans in drawers and cabinets. If this is something that bothers you, try installing a hanging rack.
Hanging racks are functional and decorative. Not only can they be used to store pots and pans, but items like food storage containers, bottles, and small appliances as well.
Consider a custom pantry
Everyone likes things organized differently. For that reason, a custom pantry might be your ideal storage solution. This gives you the power to design the kitchen's main storage space exactly the way you want it, creating ease and functionality.
Custom pantries are only limited by space and budget. Some popular design ideas include cabinetry or open shelves, custom cabinetry inserts, small table spaces with built-in drawers, and hooks to hang bags of commonly used items at eye level.
Think about what makes
you
feel organized
If reducing clutter is the number one goal of your kitchen remodel, take time to think about what makes the space feel functional to you. Most surfaces can be completely customized to meet your needs. The team at Kitchen & Bath Center is happy to help with your kitchen remodeling journey.
DREAM IT. DESIGN IT. LIVE IT.

| Kitchen & Bath Center