If you're getting ready to embark on a bathroom remodel, a new shower might be on your wish list. Showers come in all shapes, sizes, and designs, so it's important to have an idea of what you want. Here are 4 tips to help you design the shower of your dreams:
First, decide the shower dimensions
Step one when designing your shower is figuring out the ideal dimensions for your bathroom. The size and shape of your shower will likely depend on the limitations or allowances of the space, as well as the other remodel items you have planned.
According to an article on Houzz.com, the most popular shower widths are 32, 36 and 60 inches (lengths vary). The dimensions can be as small as 32 by 32 inches, but most prefer a shower that's at least 36 by 48 inches. The height of the shower ceiling typically ranges between 84 and 120 inches.
Next, consider shower materials
With seemingly limitless options, it can be difficult to decide on a material for your shower. It's important to take the overall look and feel of your bathroom remodel into consideration when making this decision.
Some classic choices for shower material include tile and cultured marble. Tile is a great choice for shower walls and floors because of its durability and versatility. Tile also gives you the chance to get creative by adding a focal point to your shower.
Cultured marble is both a tough and attractive material for showers, and it's cost-effective. At Kitchen & Bath Center, we manufacture all our own cultured marble. Whether you want a marble-esque look or the illusion of subway tile, we can create a variety of colors and textures.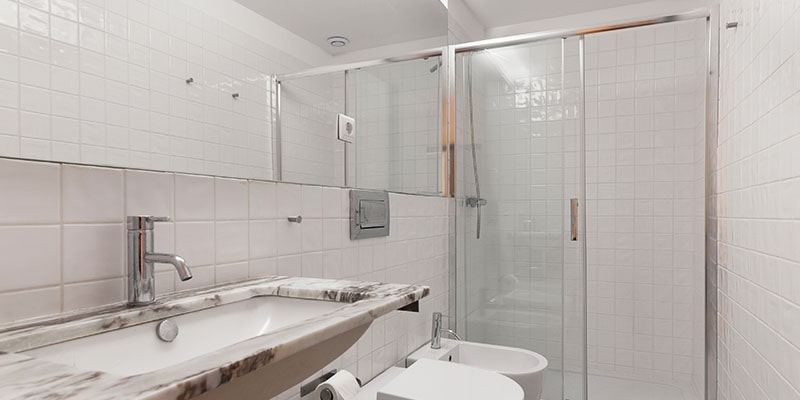 Now, think about shower doors
Shower doors have continued to rise in popularity, as the shower curtain look has begun to fade out of style. Each type of shower door has its own benefits and suites different shower and bathroom styles. Some of the most popular types of shower doors include:
Sliding shower door

Swinging shower door

Framed shower door

Frameless shower door

Curved shower door

Barrier-free shower door
When choosing a shower door, you need to think about the dimensions of your shower, how far you want the door to open, and the overall design of your bathroom. To learn more about each type of shower door listed in this article, click here.
Lastly, plan those final shower design elements
Once you have the basics plans for your shower remodel laid out, it's time to think about some of the smaller (but equally important) features inside. You need to think about what kind of shower head you want, as well as the controls. You must also consider the drain and how both of these elements will be designed to match the rest of your shower.
You might also want to add a shower niche. This built-in shelf can be designed in a variety of shapes and sizes. A shower niche is great for organization, and it makes for a nice design element.
Time to design the shower of your dreams!
Now that you have a basic idea of how you want your shower to be designed, it's time to put your plan into action. The team at Kitchen & Bath Center is ready to help make your bathroom remodeling dreams come true! Contact us today.
DREAM IT. DESIGN IT. LIVE IT.

| Kitchen & Bath Center