If you're thinking about replacing your shower curtain with a shower door, choosing the right kind for your bathroom is key. You need to think about the type of shower you have, the size and shape of your shower, how far you want the shower door to open, and the overall design of your bathroom.
These variables affect which type of shower door you should choose
Each type of shower door has its own benefits and suites different shower and bathroom styles. Here are 6 popular types of shower doors and what you should consider for each one:
Sliding shower doors
For a bathtub/shower combination, the most common shower door choice is a sliding shower door. It's also called a bypass door, and generally consists of two or three panels that slide past one another on a track situated at the top and bottom of the tub.
This is also the most common type of shower door for a stand-alone shower because it takes up the least amount of space. Additionally, it can be found in a variety of sizes and styles, so it's cost-effective.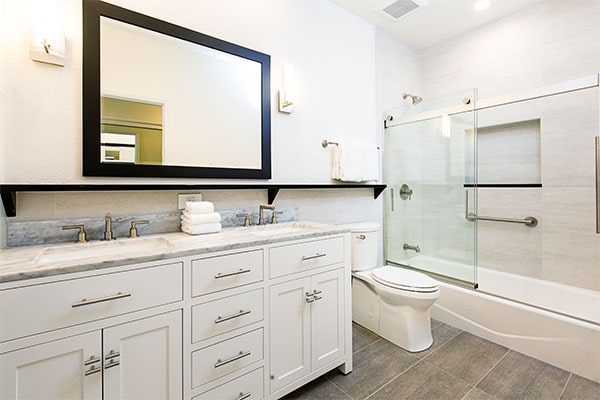 Swinging shower doors
The swinging shower door, or pivot shower door, is another popular choice. This type of shower door can be mounted so it swings open into the shower, or more commonly, outward into the bathroom. This is a good door option for shower openings that are too small to fit a sliding shower door.
Swinging shower doors can generally be up to 36.5 inches wide. If the shower opening is larger than the general measurements, you will likely want to pair the door with some sort of stationary panel.
Framed & frameless
Your shower doors can be attached by a framed enclosure or a frameless enclosure. A framed shower door is one that has some type of aluminum or composite material around the glass. A frameless door has clips holding the sides of the glass.
If you choose a framed door, the frame can be finished in a wide variety of ways, from brushed nickel and oil-rubbed bronze, to satin or gold. Some showers even have a fluted, wood frame, like the look of crown molding.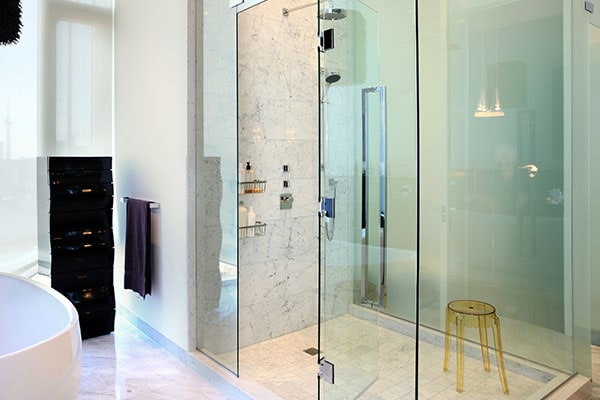 Frameless shower doors are more modern than other door types on the market. They are easier to clean and care for, and they are usually preferred for a bathroom with a modern look. They are also ideal for small bathrooms because they can create a sense of spaciousness.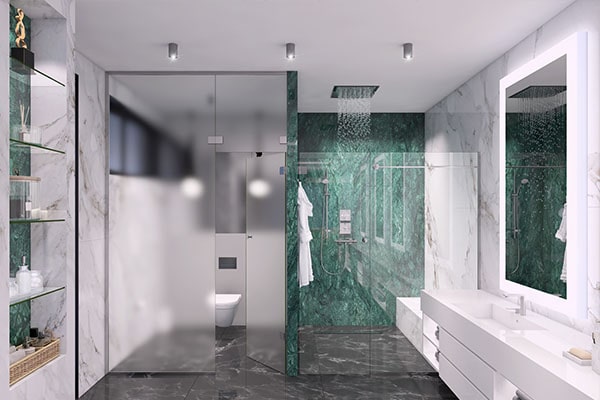 Curved shower doors
This type of shower door fits on rounded shower trays with a curved glass enclosure and track-guided bypass doors. This type of door is ideal for corner shower stalls and smaller bathrooms especially.
Curved shower doors are easier to clean because they don't have sharp corner angles and you don't have to dig between the cracks to reach grime and buildup.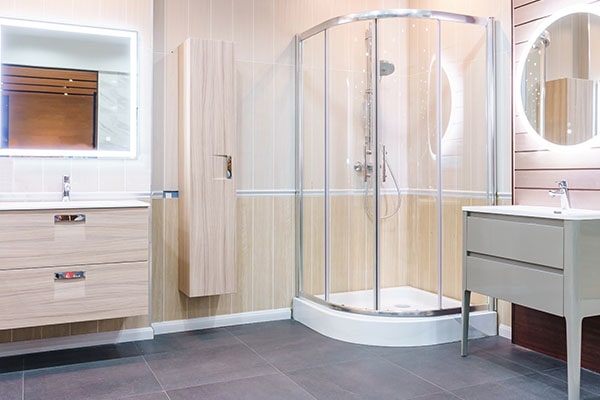 Barrier-free shower doors
If you need better accessibility in your shower, but still want a shower door, a barrier-free door may be the way to go. Barrier-free shower doors eliminate the need for a bottom track, and there is one consistent floor that runs throughout the bathroom and shower floors. The shower can be set off by an actual glass door, or just a glass or tile wall.
Turning your bathroom into a wet room is also a good option for accessibility in the bathroom. This renovation goes far beyond a shower door remodel, but it may be worth the investment depending on what your bathroom goals are.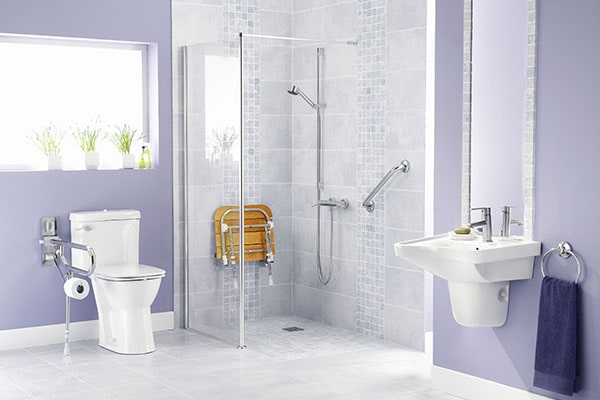 The glass can be clear, or it can be frosted or etched for additional privacy
Frosted and etched glass comes in a variety of colors, designs, and patterns. There also are colored and tinted glass options. There are even shower door options that come with mullions inside them to give the look of a picture window.
One question that we receive daily at Kitchen & Bath Center is how to clean and maintain your new shower properly, especially the glass doors. We recommend having a "Cardinal 10 Surface Protection", or C10, applied to your glass doors before they leave the factory.
C10 is a bonding system that repels water, oils, and soap scum from the glass as well as blocks UV rays. The film can only be removed through harsh abrasive cleaning or actual removal of the product itself. C10 has been highly researched and tested, displaying that it can maintain the daily abuses of shower time and keep your new doors looking clear for years to come.
One of the most peaceful areas of your home should be the sanctuary of your bathroom shower. With today's options, you can create the look and feel you desire for your bathroom shower in nearly any size space, with nearly any budget. The friendly team at Kitchen & Bath Center is ready to help you with all your project needs.
DREAM IT. DESIGN IT. LIVE IT.

| Kitchen & Bath Center