If you are currently choosing cabinets for a kitchen or bathroom remodel, you may be wondering which manufacturer to go with. As the only KraftMaid Vantage® Design Studio on the Gulf Coast, we highly recommend KraftMaid cabinetry for your remodel. Let's take a look at how KraftMaid stands apart from other cabinet manufacturers.
Craftsmanship
KraftMaid cabinets are assembled by hand. There are no pre-assembled or pre-finished cabinets. Artisans train for months to create finishes that meet KraftMaid's standards. Many of KraftMaid's finishers customize their glazing and highlight brushes by trimming the bristles to play up the application techniques they have developed over the years.
Throughout the assembly process, your order is carefully reviewed by certified inspectors to ensure quality. Every cabinet in your order is built at the same time to ensure consistency and completeness. Once a cabinet is assembled, it's inspected again, boxed for shipping, and immediately loaded for delivery (reducing the number of times your cabinets are handled and minimizing your wait).
Quality comes standard
KraftMaid builds their cabinetry to stand up to whatever life throws at it. To ensure quality, your KraftMaid cabinets include the following:
DuraKraft Plus finishing system

Whisper Touch hinges & drawer glides

Solid-wood dovetail drawers

Deep drawer boxes with full-extension drawers

90-LB drawer slides

¾" face frames on cabinets

I-beam sturdy construction

¾" adjustable shelves

½" panels
Learn more about the value each of these elements brings to your kitchen or bathroom cabinets over a lifetime of use.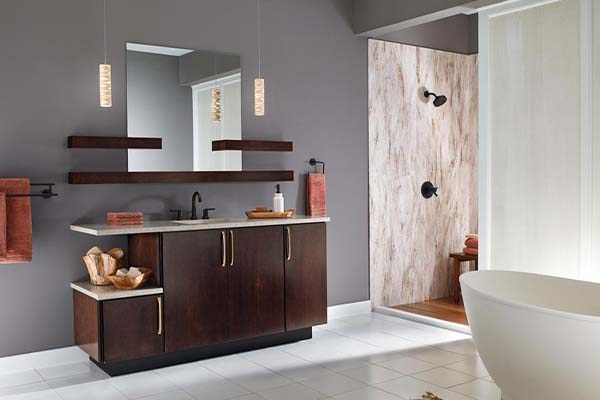 Durability testing
KraftMaid carries the Kitchen Cabinet Manufacturers Association (KCMA) Quality Certification Seal, holding their cabinets to a higher standard. Learn more about KraftMaid's durability testing standards here.
Advanced Protection
KraftMaid continuously works to enhance the performance and durability of your kitchen and bath through the development of innovative products. Some of the recent products KraftMaid has come up with include EverCore® doors and drawer fronts and CoreGuard® sink bases.
Universal design
KraftMaid's Cabinetry Passport Series is engineered to meet universal design principles of simplicity, safety, and intuitive functionality. Read more about the features and options designed to improve kitchen and bath access for every member of your home.
Environmental responsibility
KraftMaid has implemented policies and practices that protect the environment, conserve natural resources, and comply with laws and regulations designed to protect our planet. See how KraftMaid is limiting its environmental impact here.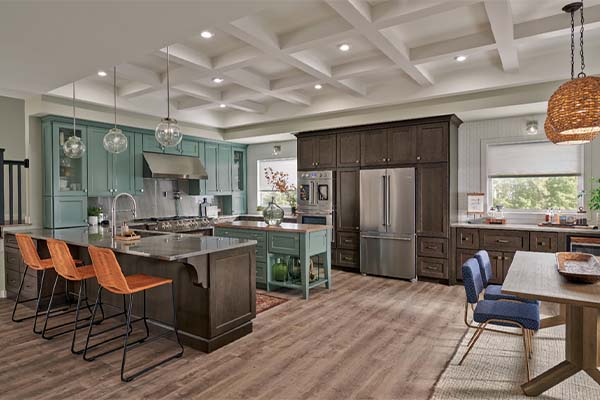 Our KraftMaid Vantage® Design Studio awaits
If you're ready to get started with KraftMaid cabinetry, the KraftMaid Vantage® Design Studio allows you to explore all the different options for your home. One of our expert designers will help you mix and match from the library of samples. The ability to touch and compare different elements of your design helps you visualize the final product. Learn more about the design process here or visit our Mary Esther showroom located at 415 Page Bacon Road to get started.
DREAM IT. DESIGN IT. LIVE IT.

| Kitchen & Bath Center