If you're planning to do a bathroom remodel in the not-so-distant future, this is the perfect time to get caught up on the latest bathroom design trends. We have some ideas for you to think about as you get started on your bathroom remodeling journey.
Open floor plans are in
Open floor plans for living rooms and kitchens have been the norm for quite some time now, but the latest trend is to bring this concept into the bathroom as well. This kind of remodel can make your bathroom feel bigger and look more modern.
There are several ways to go about the open floor plan remodel in your bathroom. For small bathrooms (such as a guest or spare restroom) you might try a space-saving tub that can be placed under a window or in a corner. Then you can remodel your shower to a glassed-in style, which will automatically open up the space. You might also consider removing your tub completely, and just opting for the glass shower.
If you're remodeling a master bathroom, you could try a wet room. In a wet room, the floor is slightly sloped to allow the water to drain off. Many times, people dress the bathroom in floor-to-ceiling tile and opt for an open shower. This gives the space a clean design, while serving the functionality of the room.
Another way to achieve a more open floor plan with your bathroom remodel is to install a floating vanity. This is another great option to save space and put more of a focus on the walls and floors of your bathroom.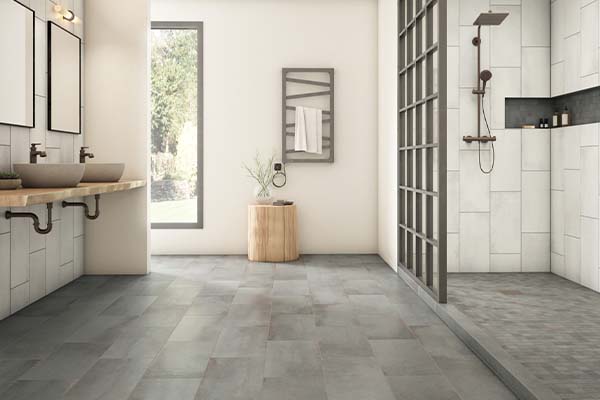 Warm colors and materials are popular right now
Think rustic cabinets or shelves, greenery, and warm colored walls. Even the modern bathroom remodel could benefit from a cozy touch. As homeowners seek to turn their bathroom into their personal oasis, warm paint colors and designs are trending.
You can achieve a warmer look with your bathroom remodel by simply repainting the walls, adding warm colored accent tiles or patterns, or just buy some house-friendly plants.
A more serious remodel would be to change the flooring in your bathroom. Many are opting for wood-look tiles and wall paneling to create that cozy feeling, while keeping a modern design.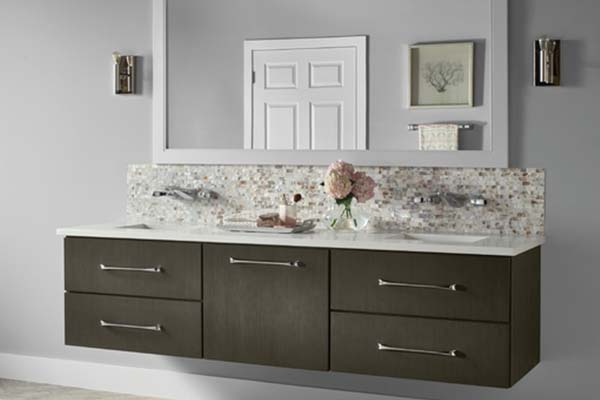 Everyone loves a good at-home spa
Designing the bathroom around the concept of an at-home spa is becoming increasingly popular in 2021, particularly for the master bath. There are several ways you can achieve a more spa like atmosphere.
Jacuzzi tubs are of course one of the most popular choices. Who doesn't love a good back massage while soaking in warm water and bubbles? This is one of the more expensive options, but boy does it pay off!
Others opt for a more prominent vanity area with seating. This gives you a place to sit back, relax, and put on a soothing facemask or lotion. This is also a great option for those who spend a lot of time in the bathroom doing hair, makeup, or nails.
A more cost-effective way to create a spa like atmosphere in the bathroom is to just add some spa essentials. This would be items like incense, scented lotions and candles, or flowers and greenery. Whatever suits your fancy!
Design your dream bathroom
It doesn't have to be trending to be a good idea! If you're working on a bathroom remodel in 2021, it should reflect your tastes, preferences, and whatever else makes you happy. The team at Kitchen & Bath Center can help you achieve the bathroom remodel of your dreams!
DREAM IT. DESIGN IT. LIVE IT.

| Kitchen & Bath Center