Open-front shelving has been making a comeback in kitchen remodeling over the last several years. If it is organized, designed, and styled, it can give your kitchen an open feel with an added personal touch.
Easy-Access Storage
As kitchens are the centers of most homes, form must follow function and efficiency. When planning how to use your open shelving, first consider these practical tips:
Lower shelf: Keep everyday items on lower shelves. Plates, bowls and drinking glasses that are in constant rotation should be within arm's reach, and preferably close to the dishwasher.
Middle shelf: Mixing bowls, cookbooks, and cutting boards that you may use less frequently are best located on middle shelves.
Top shelf: Save the top shelf for storing more decorative or rarely used items like serving trays, barware, and baskets.

Design choices
No matter what room in your house you are decorating; arranging items on shelves is an exercise in design – using colors, shapes, collections, patterns, and repetition to create visual interest. The following are some basic design choices for balance and beauty in your kitchen:
Choose uniformity over variety. If you're going for a clean and simple look in your kitchen, choose uniformed plates, glasses, bowls, etc. Use all one color or a limited color palette. Sticking with all white or all glass items are popular options as well.
Be clear, not cluttered. We're all accustomed to hiding away our chaos and clutter behind cabinet doors. You can hang on to your recycled jelly jars and mismatched keepsake mugs, but it's not necessary to display them. Keeping the number of items to a minimum, particularly on lower shelves with everyday essentials, can also add to a clutter-free look. If minimizing is hard for you, monitor what's left on the shelf when you start your dishwasher for a week or so. Chances are you won't miss those things if they're stashed away in a pantry or behind a lower cabinet door.
Create visual interest with multiple items and repetition. Keep like items together and stack them in varying or interesting heights. Line up teacups and saucers evenly and with all the handles facing the same direction. Layer items, such as a cutting board leaning against the back wall with a candle or salt and pepper shakers in front of it, to add depth.
Position small, low-intensity lights under each shelf for a cozy ambiance when the kitchen is not in use. Different lighting options include LED tape, puck lights, or light bars.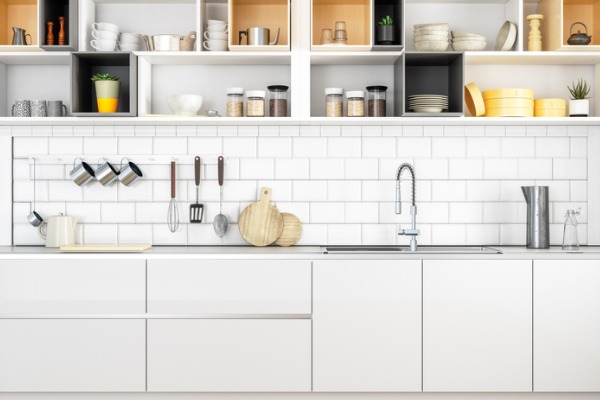 Style it your way
If there's room on your shelf, incorporate non-kitchen-related decorations that add variety and reflect your personal style. These things can also serve to break up the monotony or add spice in kitchens with neutral color palettes:
Use artwork or photographs that are special to you and your family to make the kitchen a warm and inviting place.
Display collectibles or souvenirs from recent travels or family vacations.
Showcase cookbooks.
Refresh personal items periodically based on special events, holidays, and celebrations throughout the year.
Want to learn more about creating your dream kitchen?
DREAM IT. DESIGN IT. LIVE IT.

| Kitchen & Bath Center