Tile is no longer relegated to just kitchens and baths. Tile is used in all sorts of applications around the home, and one of its most dramatic uses is giving new life to an old fireplace, particularly covering up older, brick fireplaces.
Tile materials
Almost any type of tile can be used on a fireplace surround as long as it is installed properly. Tile is an inflammable material so it can endure high temperatures without being a hazard to your home. Because of this, it serves as a great fireproof barrier, helping to reduce the risk of any accidental fires or fire damage.
Ceramic tile
Ceramic tile is made from a mixture of natural clay, sand, water, and sometimes feldspar or quartz. This is an extremely popular material and classic choice for a fireplace surround.
Porcelain
Porcelain tile, technically a subtype of ceramic tile, is also made from a mixture of natural clay, sand, water, and sometimes feldspar or quartz. It is denser and more durable than non-porcelain ceramic tiles. Porcelain tile is fired at a higher temperature giving it a slightly different look than ceramic tile.
Stone
Stone tiles include marble, onyx, granite, slate, or terra-cotta. These are timeless materials that give a natural look to your fireplace. You also can consider using stone tiles that are pitted, such as travertine, or stones with rough or chiseled edges. These tiles give more of an aged or antique feel to your fireplace.
Glass
Glass tiles reflect light, which is why homeowners love them. They can make an eye-popping fireplace surround, although they may not be as ideal on the floor in front of your fireplace as they are a little more delicate and prone to chipping or cracking under heavy foot traffic.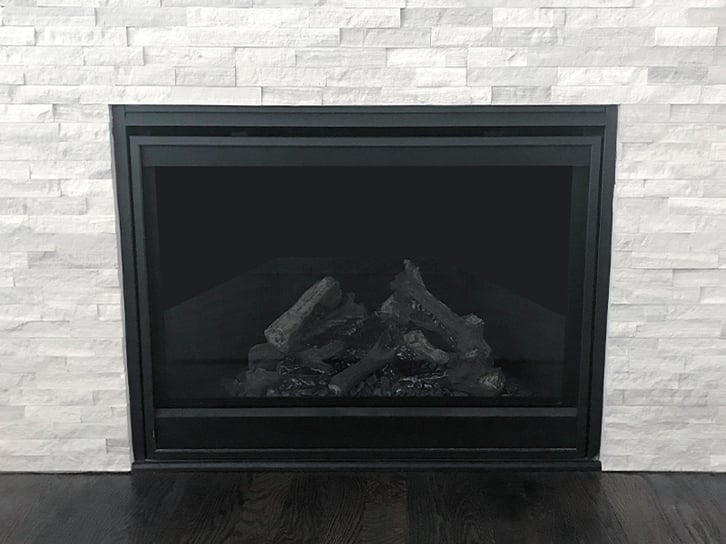 Tile shapes and patterns
A multitude of tile shapes and patterns exist to create your ideal fireplace surround.
Rectangular
Rectangular subway tile is a common shape that has stood the test of time. Rectangular subway tiles can be arranged in patterns such as brick, straight stack, basketweave, or vertical. Rectangular tiles with a parallelogram cut also are popular to create herringbone or diamond patterns.
Square
Square tiles are simple and beautiful. Square tiles can be arranged in a straight stack or offset pattern. Square tiles also can be set on a 45-degree angle, allowing the creation of a harlequin pattern.
Penny Round
Penny round tiles are small, rounded tiles usually installed on a sheet. Their small size and bold, graphic designs allow them to create a stunning look on a fireplace surround.
Plank
Plank tiles are rectangular but longer than traditional rectangular tiles. Generally, plank tiles are 24", 36", or 48" in length. They look more like a plank of wood in their shape, though not necessarily in their finish. Plank tiles work well in horizontal, offset, herringbone, and chevron patterns.
Specialty
Specialty tile includes tiles cut in shapes like diamonds, triangles, fan or fish scales, arabesque cuts, ogees, and much more. Specialty tiles are more expensive, so use them to create a dramatic accent if you can't afford to tile your entire fireplace with them.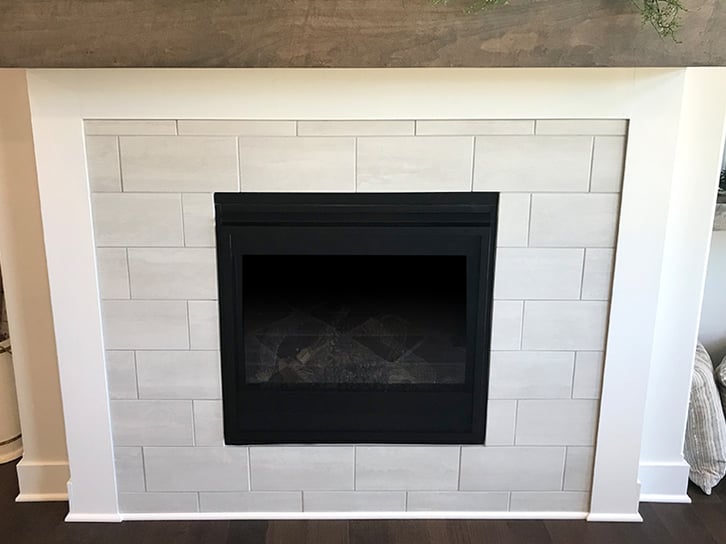 Tile sizes
Tile sizes for each shape also can vary widely. Using larger tiles means fewer grout lines. Some homeowners prefer this look. Other homeowners feel like the large tiles are out-of-proportion if the fireplace surround is smaller in size. There is no right or wrong answer, so it's best to bring home some sample tiles to make sure you are happy with the final look.
Get an expert's advice
Whatever you end up deciding, fireplaces are natural focal points for a room, so a fireplace facelift can make a bold statement in your remodeling efforts without breaking the bank.
However, with all the options available, it can be difficult to figure out what is right for your home and what will end up leaving you the most content. Visit our showrooms for inspiration and talk to one of our project managers to help you create an eye-catching fireplace.
DREAM IT. DESIGN IT. LIVE IT.

| Kitchen & Bath Center