Each part of a kitchen remodel takes careful consideration and planning. The kitchen sink is often an overlooked element, even though it is one of the most used areas of the kitchen. Just like all other aspects of your kitchen remodel, the sink deserves time and attention. This step-by-step guide can help you achieve the kitchen sink of your dreams!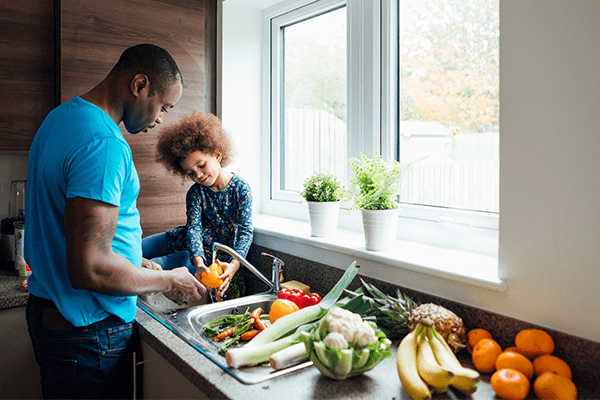 1. Size
To determine the optimal size for your kitchen sink, you first need to consider your countertop space. You want to make sure the sink isn't too big or too small for its placement. It's also important to think about how you primarily use the kitchen sink. If you do a lot of cooking, a larger sink is likely needed. If you don't, a smaller sink will leave you with more countertop space for other needs.
2. Material
Sinks come in a large selection of materials including granite, stainless steel, porcelain, marble, copper, cast-iron, acrylic, and more. When choosing a material for your sink, it's important to take the look and feel of your kitchen as a whole into account. Additionally, do you want your kitchen sink to stand out from your countertops or blend in? These considerations will help you make an informed decision on which kitchen sink material to choose.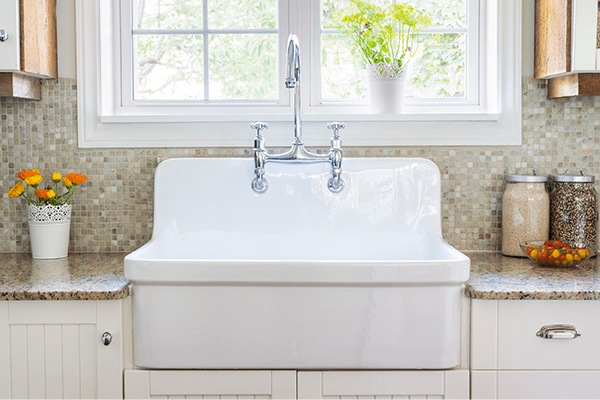 3. Design
There are many different types of kitchen sinks that vary in style. Here are some common design options to consider:
Self-rimming sink

: The rim extends above the counter, supporting its own weight. This is the

most popular

kitchen sink design in the country.

Undermount sink

: The sink is installed below the countertop, creating a seamless look. This is the

second most popular

kitchen sink design in the country.

Porcelain apron sink

: This design is meant to emulate a

farmhouse sink

and

it brings a timeless appeal to the kitchen. For this style, it's important to note that your existing sink base cabinet may have to be modified. If you are getting a new cabinet, it must be ordered appropriately to accept an apron sink.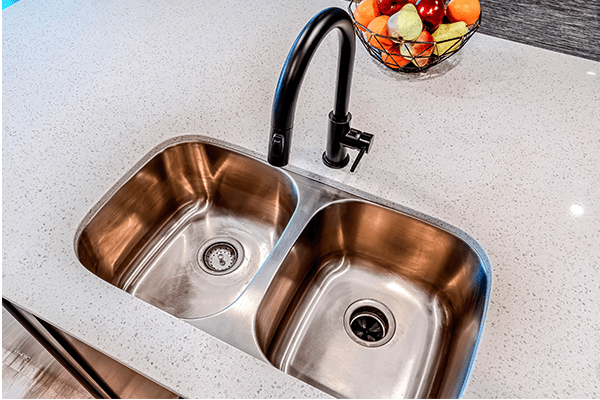 4. Single or double
If you have a large space for your sink, double is likely the way to go. This adds separation between basins, making it easy to multitask while cooking, cleaning, and doing dishes. Alternatively, if you have a smaller sink area, one basin might be a better choice. This keeps the area streamlined and easy to clean for quick turnover.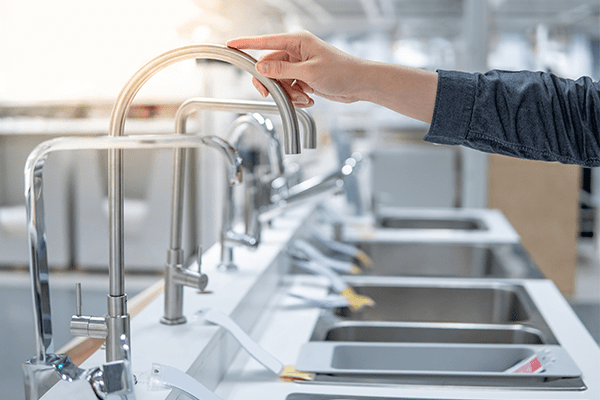 5. Faucet
There are lots of different types of faucets and this element can add a unique touch to your kitchen sink. Some of the main types include the pull-down faucet, the pull-out faucet, the single-handle faucet, the dual-handle faucet, the commercial style faucet, and the separate spray faucet. These faucets come in various styles, giving you another avenue of design for your kitchen sink.
Start designing your kitchen sink today
Just because the sink is one of the hardest working fixtures in your home doesn't mean it can't also be one of the most attractive. At Kitchen & Bath Center, our sink manufacturer is Chemcore. Chemcore is one of the largest sink wholesale companies in the country, with over 333,000 sinks, faucets, and accessories in stock (available in nearly any material).
Whether you're just remodeling your kitchen sink or doing a full kitchen remodel, our team of experts is ready to help. Contact us to get started.
DREAM IT. DESIGN IT. LIVE IT.

| Kitchen & Bath Center