The modern, rustic kitchen is a popular design choice for homeowners these days, and there are several ways you can make this style pop in your home. With this contemporary spin on a timeless classic, you can expect your kitchen remodel to remain relevant for a lifetime. Try our 5 ideas to create the rustic kitchen of your dreams: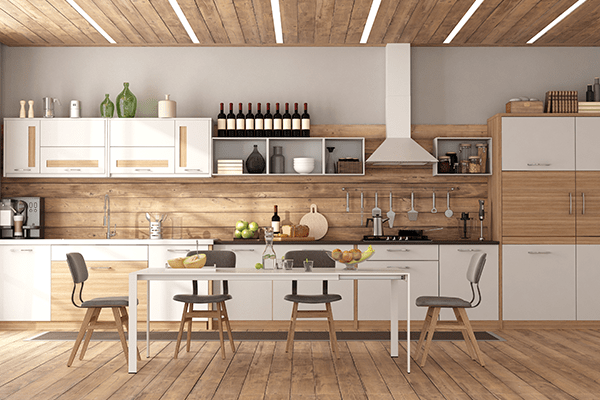 1. Design with wood
Every rustic kitchen incorporates wood somehow, but going all out can really help bring this
design scheme
to life. Consider the following wood elements to help create your rustic kitchen design:

Wood flooring


Wood-paneled walls

Wood beams

Wooden island

Wood shelving

Wood cabinetry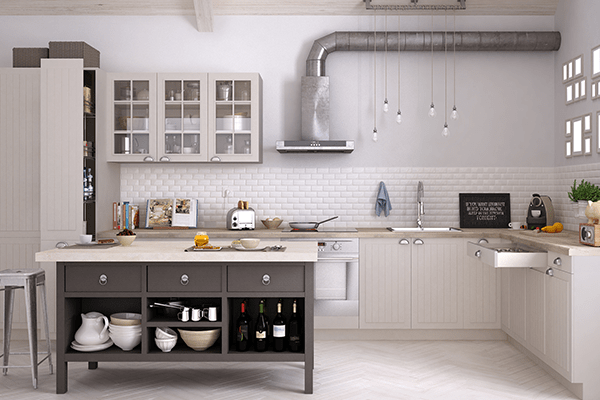 2. Incorporate industrial materials
Using industrial materials can help bring a modern edge to your rustic kitchen remodel. Consider incorporating the following items into your renovation to create a more
modern
look:
Stainless steel range hood

Stainless steel cabinetry

Titanium countertops

Metal light fixtures
3. Opt for open shelving
You can go natural or industrial with kitchen shelving, but consider keeping it open. This adds a charming farmhouse look to the storage space, while allowing you to easily display rustic or old-timey kitchen cookware and appliances. You can also add hooks to your open shelving to hang decorative kitchenware from, giving you the perfect spot to show off frequently used items that support your rustic kitchen theme.
4. Install a farmhouse style sink
Make your rustic kitchen one-of-a-kind by installing an apron sink. This design is meant to emulate a farmhouse sink and it brings a timeless appeal to the kitchen. Apron sinks come in a variety of materials, including porcelain, stainless steel, and copper. For this style, it's important to note that your existing sink base cabinet may have to be modified. If you are getting a new cabinet, it must be ordered appropriately to accept an apron sink.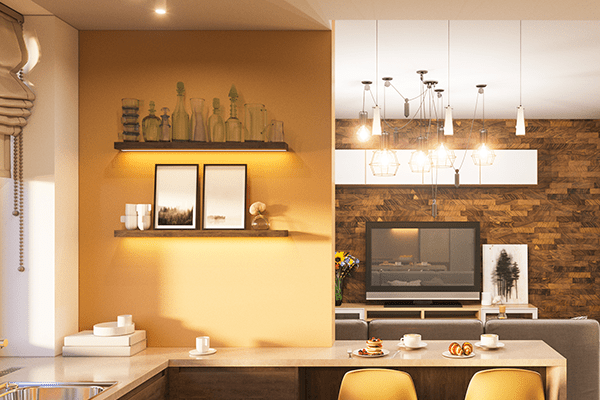 5. Play with rustic accent colors
You can go many different directions with the color scheme for a rustic kitchen remodel. Consider painting an accent wall, adding a backsplash, or putting up wallpaper that incorporates warm colors like yellow, orange, or rust. You can also give these items a more modern look by choosing cool colors like slate blue, grey, or green. Any of these colors will bring your rustic kitchen design to life.
It's time to design the rustic kitchen of your dreams
At Kitchen & Bath Center, we're the experts on kitchen remodels. Our Project Managers work with numerous manufacturers and contractors to help you get exactly what you want. Stop by one of our showrooms  to get started with your kitchen remodel today.
DREAM IT. DESIGN IT. LIVE IT.

| Kitchen & Bath Center