So, you're ready to remodel your kitchen but worried about the cost. Luckily, there are several simple ways you can save money during the kitchen renovation process. Ready to achieve the kitchen of your dreams without breaking the bank? Check out these 5 ways to remodel a kitchen on a budget:
1. Refresh cabinets
Updating your cabinetry can completely change the look and feel of your kitchen. Refresh your kitchen cabinets on a budget by refacing them instead of completely replacing them. Another cost-saving option includes simply repainting your cabinets.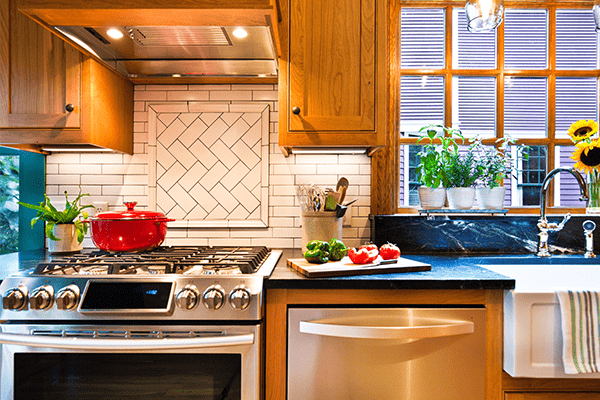 2. Cost-effective backsplash
Backsplash is often a focal point in the kitchen. When remodeling on a budget, you can choose a backsplash that's both beautiful and cost-effective. Some of the cheaper yet aesthetically pleasing backsplash options include ceramic tile, peel-and-stick backsplash, and subway tile. Check out our host of backsplash manufacturers here.
3. Update hardware
Changing out hardware like cabinet handles, drawer pulls, cabinet hinges, and knobs can be a game-changer in the kitchen. These simple hardware updates are a great remodel option for those renovating on a budget. At Kitchen & Bath Center, we work with several top-notch hardware manufacturers, including Jeffery Alexander, Top Knobs, and Amerok.

4. Redo shelving
Adding or replacing shelving is another simple kitchen update that can make a huge difference. Open shelving is a popular kitchen remodel option right now, and it's cost-effective. You can install shelving that stands out as a focal point in the kitchen by getting creative with placement, styling, or fun colors.
5. Cohesive Décor
Choose a style or theme for your new kitchen and use décor to bring it to life. Making sure that all aspects of your kitchen remodel embody the look and feel you're trying to achieve is important, and décor is a simple and cheap way to do it.
Renovating a bathroom on a budget?
If you want to remodel your bathroom but don't have the budget for a total overhaul, there are many minor updates that can make a big impact. Learn more.
DREAM IT. DESIGN IT. LIVE IT.

| Kitchen & Bath Center