If a more organized kitchen is one of your main remodel goals, adding storage is a great place to start. There are several ways you can prioritize storage room in the kitchen, many of which can also help you maximize the space. Here are 4 simple storage ideas for your kitchen remodel:


Get creative with shelving
Most modern kitchens have shelves of some kind, but these days, there are so many creative ways to install and utilize kitchen shelving. Whether you're looking for a place to display cups and mugs or conceal pots and pans, shelving might be your answer.
Consider adding open shelving to store commonly used items that you need regular access to. Open shelves are a great organizational tool, and they add a decorative element to the kitchen as well.
Pullout shelving is a popular storage option for pots and pans. Installing some pullout shelves inside your cabinets can provide some much needed organization to what can otherwise be a cluttered space.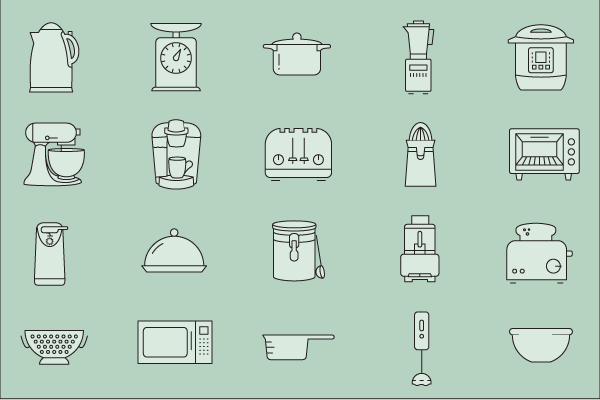 Install an appliance garage
Many homeowners are opting for built-in appliances these days, making it easy to conceal larger items like dishwashers and stovetops. But if you're looking to hide smaller appliances so you can declutter your countertop space, an appliance garage may be the way to go.
An appliance garage can be designed in a number of ways, and it blends in seamlessly with cabinetry. It can open and close just like a typical cabinet door or it can slide or lift open. An appliance garage is a great storage solution for everyday items like:
Toasters

Blenders

Mixers

Coffee makers

Air fryers

Waffle makers

Pressure cookers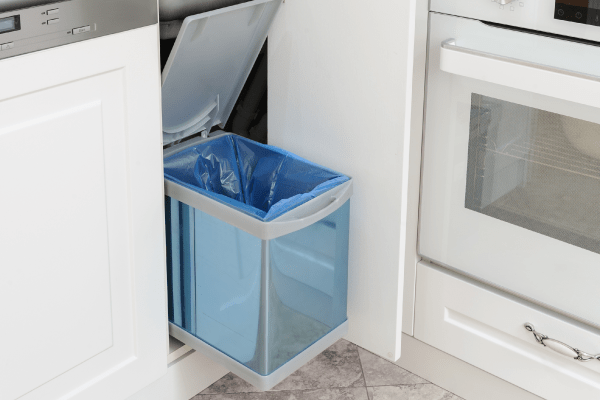 Try a pullout trashcan
It's a simple idea, but one that can make a big difference. Trash isn't something that any homeowner wants to look at each day or have on display, making the decision to hide it away an easy one.
Adding a pullout trashcan to your kitchen is as easy as designing a custom cabinet, typically placed near or under the sink. You can also try installing an insert or rack in your existing cabinetry, however, it likely won't be an exact fit.
If you decide to go with a custom cabinet for your pullout trashcan, consider adding a side panel to store trash bags, ties, and air freshener. This storage solution can help keep your kitchen looking clean, maximize your floor space, and streamline the process of taking out the trash.

Design a drawer for everything
The right drawers can do wonders for your kitchen storage, making it easy to organize and navigate the space.
Corner drawers are a great option for homeowners that have limited counter space, allowing you to utilize unused sections. You should also consider adding an undersink drawer, enabling you to store items in an area that often goes unused.
Think about how you can maximize the space inside your drawers as well. You can design a drawer specifically for utensils that includes inserts or buckets. If you cook a lot, installing a drawer that serves as a pullout spice rack may be a smart decision. Similarly, a custom cookie sheet drawer could be a good option for bakers.
Start remodeling your kitchen storage spaces today
Storage solutions come in all shapes and sizes. You can accomplish your kitchen storage goals by remodeling your countertops, cabinets, shelves, drawers, pantry, and more. At Kitchen & Bath Center, our goal is to help you make informed decisions so that you end up with the kitchen of your dreams. Contact us now to get started on your kitchen remodel journey.
DREAM IT. DESIGN IT. LIVE IT.

| Kitchen & Bath Center