Mobility issues or difficulties in physical functioning are a reality for 15 percent of the population in the U.S.—that's 38 million adults, according to the Centers for Disease Control and Prevention (CDC).
Private, residential homes are not covered by the Americans with Disability Act (ADA). Studies indicate that fewer than five percent of homes in the U.S. have the features necessary to accommodate a person with moderate mobility difficulties.
So, what should you do if you need a bathroom in your home that is handicap accessible?
Planning
Even if you are looking at your current bathroom right now and thinking, "There's no way I can make this accessible," fear not. A knowledgeable contractor with today's options in functional, versatile products can help transform a small, dangerous bathroom into a safer, more accessible one.
If you know the answers to the following questions, it can greatly assist you and your contractor in the planning process:
What activities do you or a loved one currently need assistance with in the bathroom?
What actions can you or your loved do independently?
Do you anticipate mobility issues changing over time?
Is there any type of medical supplies that need to be in the bathroom?
Do you or your loved one prefer a tub or shower?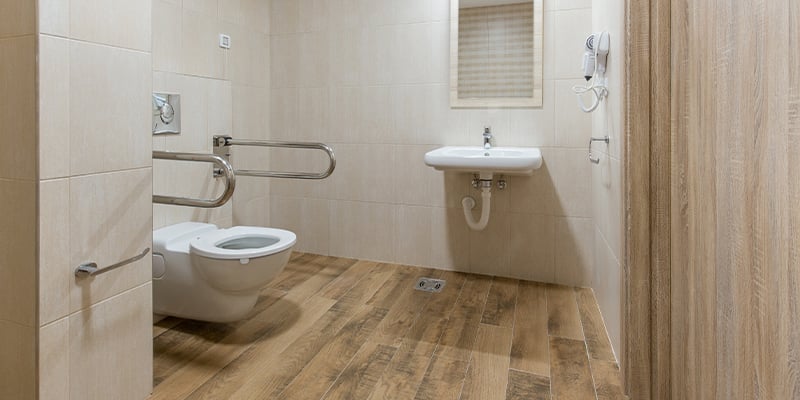 Room Size
If you would like your bathroom to accommodate a wheelchair (now or in the future), it's essential to think about the square footage you must work with.
Ideally, a roll-in shower would be 5 feet wide by 3 feet deep with no curb. If you don't need to accommodate a wheelchair, a shower should be a minimum of 36 x 36 inches with a curb no higher than ½ inches off the ground, according to the ADA.
While not all of us have the square footage in our homes to allow either of these configurations, luckily, there are even more creative options.
Turning your entire bathroom into a wet room can work for a shower solution. Everything in the bathroom will share one large open space, with an extra floor drain in the center of the room, sloped for drainage.
Entryway
The doorway should have a clear width of 32 inches from the door's face to the opposite stop to accommodate a wheelchair. Keep in mind that you will want to position the bathroom door so that it doesn't open inward and obstruct the interior space of the bathroom. Pocket doors can be a good option in some cases to provide better accessibility.
If you've chosen a shower that can accommodate a wheelchair, it's also convenient to make it a straight shot from the doorway into the shower if possible.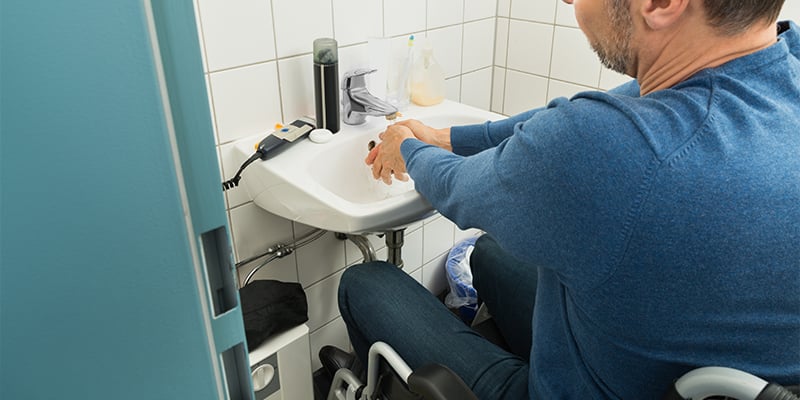 Sink, Toilet, and Tub Options
While it may not be possible to implement all the recommendations (especially for an older bathroom), you should still consider the ADA's guides for clearance space around sinks and toilets. The more you can do, the more comfortable it will be for you or your loved one.
An ADA-compliant restroom will include the following:
Sink
30-inch by 48-inch access to the sink—the door cannot swing into this rectangle.
27 inches of clearance below the sink. A wall-hung sink may be a good option rather than a pedestal sink because the user can get closer to the basin.
Toilet
A toilet seat height of 17-19 inches.
The centerline of the toilet must be between 16 and 18 inches from the sidewall.
Grab bars must be secured into the studs of your wall.
Ideally, there will be grab bars on both sides of the toilet. This has often been difficult if there isn't a wall on both sides of the toilet. But nowadays manufacturers make hinged grab bars that can be attached to the wall behind the toilet and pulled down when needed.
Another option to consider in a handicap accessible bathroom is a combination toilet and bidet to assist the user with cleaning him or herself.
Clear floor space
A clear circle of 60 inches to allow a wheelchair to turn.
One of the keys to an accessible bathroom is plenty of space to accommodate a cane, walker, or wheelchair. It's essential to keep the bathroom as free from clutter as possible, especially things like hampers, garbage cans, and decorative rugs. They can present an easy trip hazard.
Grab bars
Grab bars are essential safety features to include in several places around the bathroom—particularly areas like the sink and inside the shower. You or your loved one may have the ability to act independently but will still have a grab bar there in case you lose your balance. Grab bars also are vital when entering the tub or shower.
Tub
While most homeowners prefer a tub to shower conversion when making a bathroom handicap accessible, others prefer to keep their tub. In this case, a safety tub might be a good option. It has a swinging door, making it easy to step inside and sit down, and the tub fills and drains once you are inside.
Other features to consider are hand-held showers with a 60" hose, faucet controls that are located in an area where the user can adjust them without getting wet,

and handles that can be pushed or pulled so the user can turn them on and off with the palm of their hand.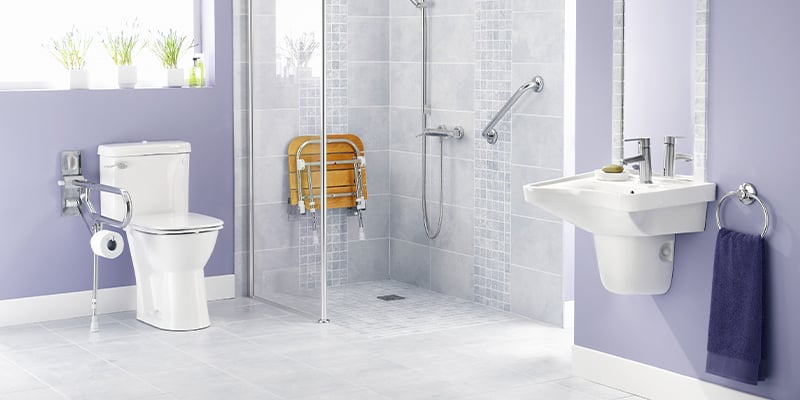 Accessories
You also are going to need to think about items such as robe hooks, towel bars, toilet paper dispensers, soap dishes, toothbrush holders, mirrors, and more.
Make sure they are positioned at a comfortable height that they can be reached from a seated or standing position.
For in-shower or in-tub toiletry holders, make sure they are large enough to accommodate toiletries so they do not fall out onto the ground.
Install an adjustable, tilting mirror above the sink to allow the mirror to be used standing or sitting.
Lower the light switches or install motion-sensing lights. If you use light switches, install ones with a large toggle or push-button, rather than switches you need to pinch to grasp.
Finally, slip-proof flooring is a must, especially inside the shower or bathtub.
At the Kitchen and Bath Center, we specialize in upgrading bathrooms, so they are ADA-compliant. It is our honor and privilege to improve the lives of our Veterans by working with them to remodel their homes through the VA's Adapted Housing Grants for Disabled Veterans (VA HISA Grant).
We will help you upgrade your bathroom and maximize your dollars to give you the highest quality remodel at the best value. Reach out to us if you have any questions about remodeling your bathroom to be more accessible.
DREAM IT. DESIGN IT. LIVE IT.

| Kitchen & Bath Center