You finally have your dream bathroom after months of dreaming, planning, and construction. But now it's been a little while, and your shower doesn't seem so shiny and new anymore. The soap buildup, dirt, and sand that you are washing off your body every day has taken its toll on your shower sanctuary.
When to Clean Your Shower
According to The Spruce, you should be doing a thorough cleaning of your shower on a weekly basis. However, if you take a few quick steps before you leave the bathroom, you can make your weekly cleaning much simpler. In addition, you should also do a deep cleaning of your entire shower and all your shower accessories on a regular basis.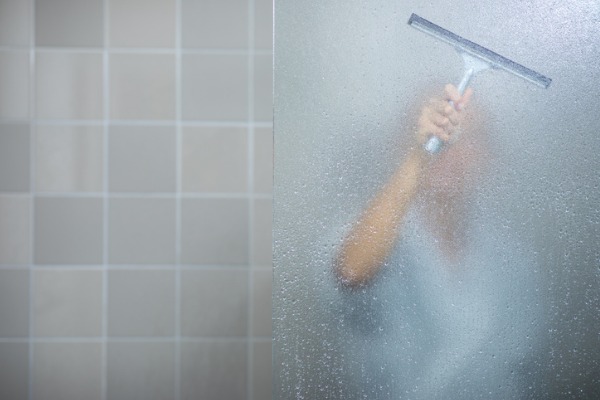 After Each Shower
After you have turned off the shower, wipe down any wet surfaces with a squeegee or a rag. Make sure your shampoo and body wash bottles are closed and upright to avoid any soapy spills and hang up any wet shower accessories. Clean up any puddles or standing water that may have gathered in the bathroom to avoid creating opportunities for mold or mildew to grow.
Before you leave the bathroom, remove any hair, visible dirt, or excess sand from the drain that may prevent the shower from draining completely.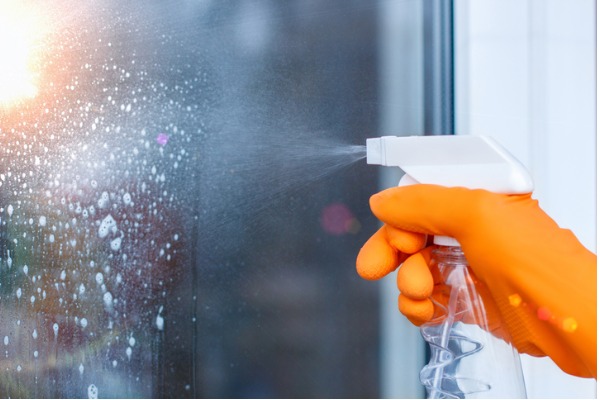 Once a Week
How you clean your shower each week will depend on the materials from which your shower is built. Tiles and grout require more attention to detail, and glass can get visibly dirty quickly. There is a wide variety of bathroom cleaning products available, but you can also make your own with water, vinegar, and baking soda.
Specific Materials
Cleaning Grout
Materials
Small soft-bristle brush

Baking Soda

Water
Mix baking soda with water until you have formed a thick paste. Put small amounts of the past on the brush and gently scrub along the grout lines in the shower.
Cleaning

Glass Shower Doors
Materials
Soft sponge or cloth

Water
Mix one cup of baking soda to ¼ cup of vinegar to create a thick paste. Apply the paste to your glass door and let it sit for ten to fifteen minutes. Wipe down the surfaces with a cloth and rinse well with water. Dry the glass completely with a separate cloth.
Cleaning

Natural Stone
Materials
Water

Laundry Bleach

Soft sponge
Mix one-part water to one-part laundry bleach and spray on your tile. Carefully clean the area with a non-abrasive material so that you do not scratch the stone. Rinse the area with water and let it dry completely.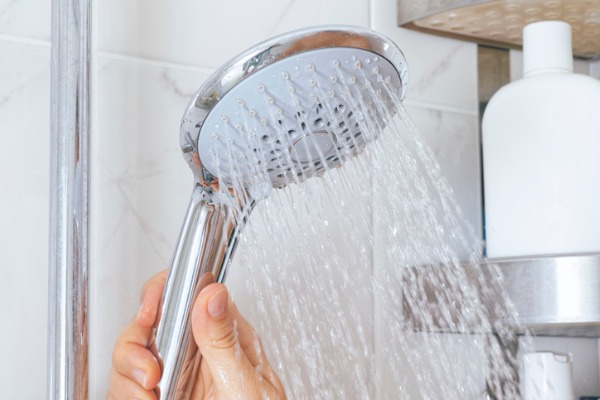 Seasonal Deep Cleanin

g
No matter how hard you try to avoid them, mold and mildew can creep into your shower because the warm, wet environment is perfect for them. Additionally, soap scum buildup in your tile grout and on glass can require more elbow-grease than your weekly clean entails.
On a seasonal basis, remove your shower curtain and clean it according to the directions on the label. According to Molly Maid, you can even put the shower liner in the washing machine as long as you add a bath towel and keep it on a gentle setting.
While your shower curtain and liner are being cleaned, take the opportunity to deep clean the shower curtain rings by soaking them in hot water and detergent or vinegar and scrubbing them individually.
Once you have washed your shower liner and curtain, hang them both back up to allow them to air dry overnight.
If your grout appears stained in certain areas and baking soda will no longer solve the problem, find a powdered oxygen bleach or grout-safe spray that you can use to clean up those areas.
If you are interested in learning more about a new shower, give us a call!
DREAM IT. DESIGN IT. LIVE IT.

| Kitchen & Bath Center