A bath is an integral part of your bathroom. I mean, it's right there in the name.
Some of the advantages of having a bathtub include the option to soak or provide options for accessibility, makes it easier to bathe young children, and can add value to your home.
When renovating or remodeling your bathroom, deciding what kind of bathtub to add can be a more complicated choice than you may expect. Consider the various types of bathtubs and the materials you can use. Each option alters the overall look in your space and can become a key feature in your home.
Types of Bathtubs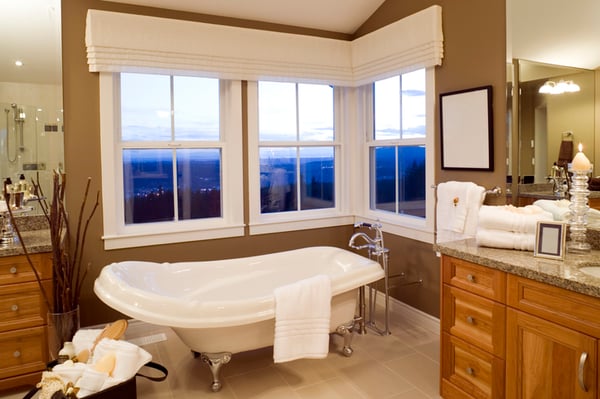 Freestanding
Unattached to any surrounding walls, a freestanding tub can fit in almost any space. According to Badeloft, a freestanding bathtub works as a centerpiece to a bathroom. In addition, freestanding tubs can lend to the style that you are trying to achieve in your space. For example, a clawfoot tub can add to your traditional bathroom, or a sleek oval tub can instantly transform your room into a modern spa.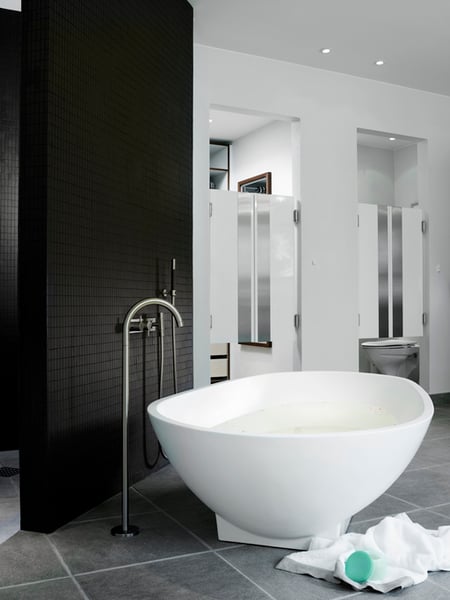 Soaking
These deep bathtubs will make your bathroom into a personal spa. Soaking tubs are designed to prioritize comfort and relaxation. Soaking tubs can also be made with jets, a great addition to encourage even more relaxing. The only downside is, you may never want to get out.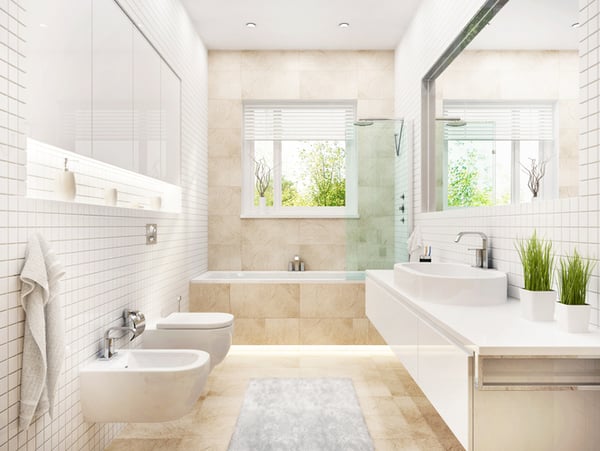 Alcove
An alcove bathtub is likely what you think of as your traditional tub, one that is placed into a recess in the bathroom. In fact, this style of bathtub was designed to help homeowners who had limited space and eliminate the issues of cleaning a clawfoot tub.
These types of bathtubs are often paired with a showerhead and can easily accommodate doors or shower curtains for additional privacy.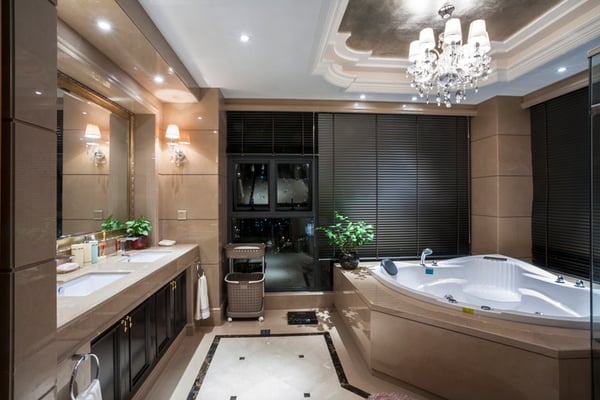 Corner
Like an alcove tub is placed against a recess, a corner bathtub sits in a corner of the bathroom. These tubs can save space and can be more comfortable to sit in due to the shape of the bathtub itself. A corner tub can give you the opportunity to add more storage or other fixtures in your bathroom.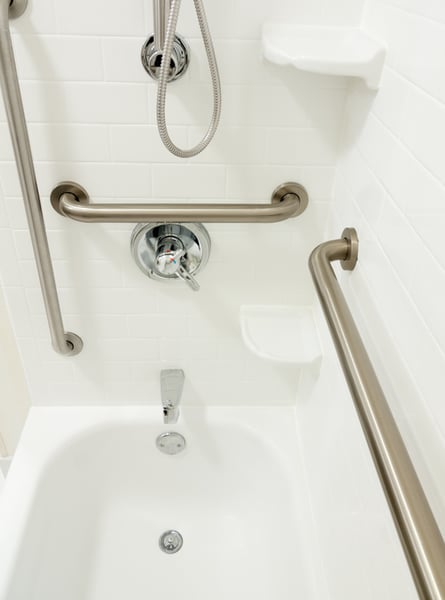 Walk In
Walk in bathtubs were created with accessibility in mind. These tubs include small doors and handles that allow seniors, anyone living with a disability, or those with mobility limitations to use a bathtub comfortably and safely.
Bathtub Materials
Fiberglass
This reinforced plastic is budget-friendly, lightweight, and easy to install. However, the material itself is prone to cracking or warp over time.
Porcelain on Steel or Enameled Steel
These tubs are often made from "cast iron or stamped seal coated with porcelain enamel", according to Badeloft. Porcelain bathtubs are known for their smooth surfaces and shine, while the coating makes them easy to clean and maintain. For young families or senior residents, you may need to add sticking pads to avoid slipping or accidents.
Cultured Marble
One of our best sellers at Kitchen and Bath Center, cultured marble bathtubs are durable, easy to clean, and come in a large variety of colors. We even offer custom tubs that are made right here in our Fort Walton Beach location.
Acrylic
Quality Bath cites acrylic as a market-favorite material. This lightweight, and damage-resistant material even helps to keep water temperature warm. Additionally, acrylic baths can be suited to your space with lots of color, size, and configuration options.
Stone and Wood
While these are less traditional materials to use, bathtubs can be custom ordered and made using granite, marble, onyx, and more. However, creating one-of-a-kind bathtubs from any of these materials will be more expensive than other tub options and stone will require framing and weight considerations.
Other Considerations
As you can see, there are a lot of considerations to consider when picking out a bathtub. However, we have a few more to add to your list before you make a final selection.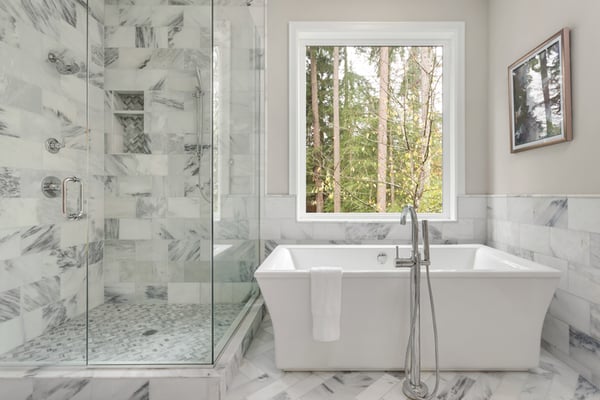 Tub
Shape
Circular? Angular? Oval? Molded to your body like Oprah Winfrey? Within the size limits of your space, you can select a shape that is most suited to your preferences.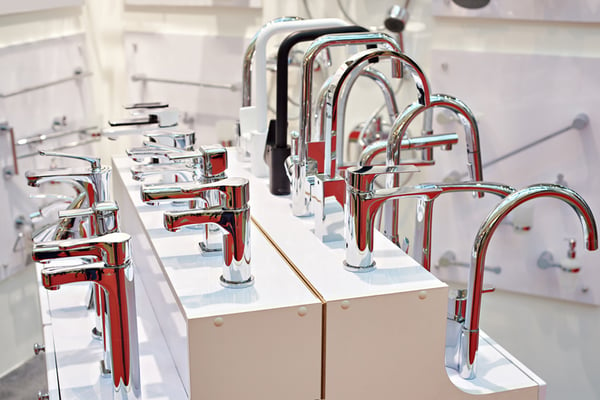 Faucets
As with the pulls and handles on your cabinetry, the faucets and fixtures you choose can add those finishing touches to your bathtub.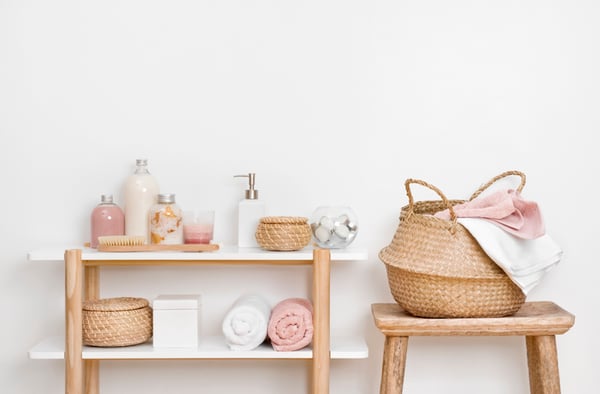 Storage and Accessories
From shelving to candles, the way you decorate the space around your bathtub will complete your space while also making it functional for your family. Sunrise Specialty has a list of bathtub accessories that may not be necessary, but they are fun to consider.
Looking to remodel your bathroom or upgrade an old bathtub? Stop by any of our locations or give our team at Kitchen & Bath Center a call.
DREAM IT. DESIGN IT. LIVE IT.

| Kitchen & Bath Center