Many homeowners dream of having a kitchen island. This trendy piece can add stylish storage, food prep space, and seating to the most popular gathering spot in the home.
The shape and size of kitchen islands today can be far more elaborate than a three-foot by six-foot rectangle with bar seating, however this is by far the most common dimension.
Will it Fit?
The key to a great kitchen island is making sure it fits in the space you have. You will want to make sure it still allows traffic to flow freely through the kitchen, and that it maximizes efficiency for the cook. If you turn around from cooking at the stove and must walk around a large rectangular island to get to the sink, your kitchen island dream may quickly turn into a cooking nightmare. 
Additional room for seating and entertaining is usually a big part of a kitchen remodel plan, but you don't want to forget about the primary purpose of the space— preparing meals.
The kitchen triangle remains the gold standard for an efficient kitchen layout. The three points are the sink, stove, and refrigerator. If you draw an imaginary line between each, an unobstructed triangle forms. The distance between each of these points should range between four feet and nine feet in the ideal scenario.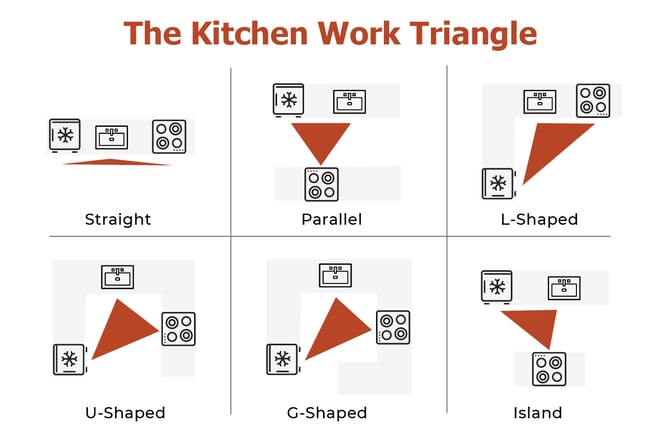 An old rule of thumb suggested that your kitchen needed to be at least eight feet by 12 feet if you wanted to add an island. Today, because there are so many possible shapes and sizes for a kitchen island (not to mention movable kitchen islands) that's not always the case. 
L-shaped kitchen islands provide multi-zoned workspaces for homes with multiple chefs. U-shaped islands surround the cook on all three sides and provide room for appliances, storage, and sinks. Some homeowners even have circular islands. 
Some measurements you should abide by include the space needed to swing your refrigerator door open or open your dishwasher. Plan to allow at least 39 inches between an island and any opposing obstacle. A 48-inch clearance is preferred.
Remember, if you won't be the only person in the kitchen at once, you should plan to have space for another person to move around you. If you are planning a kitchen for accessibility, most wheelchairs need a 60-inch circle to turn completely. 
Make Your Dreams Come True
It's important to put some careful thought and planning into your kitchen design. Showrooms, where you can see and touch, can help inspire you. Today's computer design tools, along with the help of experienced staff and designers can assist with personalizing and enhancing your kitchen island to make it just right for you. 
Contact the Kitchen & Bath Center team today to get started on making those kitchen island dreams a reality.
DREAM IT. DESIGN IT. LIVE IT.

| Kitchen & Bath Center