A kitchen or bath remodel is a home project that usually provides a strong return on investment. According to Remodeling Magazine, nationally, a kitchen remodel costing $26,000 will recoup more than 72 percent of its value. A bathroom remodel in this same price range will retain more than 60 percent of its value.
While ROI is a nice benefit from home remodeling, it's not necessarily unexpected. Decreased maintenance costs and creating a more appealing space for buyers down the line are benefits most homeowners assume their remodeling projects will bring. However, studies show that there are also many unexpected benefits of a home remodeling project.
1. Healthier eating habits
According to a Houzz Kitchen Trends study, one-third of homeowners who completed a kitchen remodel reported leading a healthier lifestyle, from preparing more meals at home, to eating out less, to eating more fruits and vegetables. It makes sense because when you enjoy a space, you want to spend time in it. Why run out for fast food when you have the oven of your dreams waiting for you to whip up a masterpiece?
2. More family time
With a kitchen remodel, since you're preparing more meals at home, you're also sitting down as a family more often to enjoy them. Numerous studies show that family meals are one of the most important things you can do for your health and well-being. It goes far beyond just making healthier eating choices. Children who eat regular family dinners tend to do better in school, have higher self-esteem, and have a decreased risk of depression, substance abuse, and teen pregnancy.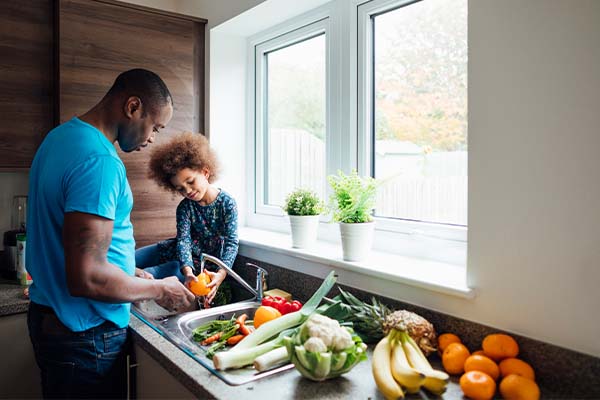 3. More me time
Rest time is also crucial for a healthy lifestyle but finding the availability or budget for a well-deserved trip to the spa isn't in the cards for many busy homeowners. A bathroom remodel can give you the opportunity to create the spa-like retreat you crave in the comfort of your own home. From jetted tubs and rainfall showerheads to built-in music systems, you can use a home remodel project to transform your bathroom into the perfect spot for a much-needed respite.
4. Better connections with friends
40 percent of homeowners who completed a kitchen remodel reported spending more time entertaining. Research from across the globe finds that there is a powerful link between friends and health. According to Harvard researchers, strong social ties can also promote brain health as we age. So, gather your besties around that new kitchen island for a game night and apps!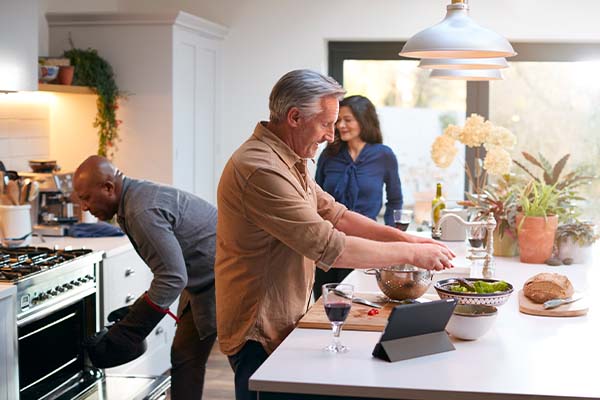 5. Improved energy efficiency
Eco-conscious consumers love the many ways that a home remodeling project in the kitchen or bathroom can help them become more energy efficient, creating a more sustainable environment for future generations. Many homeowners choose appliances with the ENERGY STAR label. These products are at least 10 percent more energy efficient then homes built to code and achieve a 20% improvement on average. Many of today's faucets and toilets are low-flow to conserve water usage, and materials such as bamboo and reclaimed wood are not only on-trend today, they are also sustainable.
It's all about Improving Your Lifestyle
Home remodeling happens for many reasons, such as fitting necessary lifestyle and safety accommodations or increasing the resale value of your home. However, a key takeaway from this is that while a healthy bottom line is an essential consideration for any home remodeling project, a thriving and happier lifestyle might be a priceless upgrade!
Need someone to help guide you along the way? Our expert team at Kitchen & Bath Center can organize every step of your kitchen or bathroom remodeling project, from helping you design a layout, to choosing the perfect finishes, to hiring and scheduling your plumbers, electricians, contractors, and more.
Feel free to shoot us a message or come to one of our locations if you have any questions. We would be happy to help make your remodeling dreams a reality!
DREAM IT. DESIGN IT. LIVE IT.

| Kitchen & Bath Center