Accessibility concerns for you or a loved one should not exist in your home. When you arrive at your own doorstep, you should feel comfortable and have all of the things you need easily at your disposal. We have a blog on How To Make a Bathroom Handicap Accessible and adhere to ADA compliance guidelines.
No place is more important for accessibility than a shower. It is possible to convert even a small shower into a handicap accessible space or to have modifications that make it easy to use for someone who lives with limited mobility.
Accessible Showers
Ideally, a roll-in shower would be 5 feet wide by 3 feet deep with no curb. According to the ADA, if a shower does not need to accommodate a wheelchair, it should be no less than 36 x 36 inches with a curb no higher than ½ inches off the ground.
If you've chosen to accommodate a wheelchair, it would also be convenient to make it a straight shot from the doorway into the shower if possible.
If you need to convert a small shower into a handicap accessible shower, many barrier-free shower kits can even fit into a standard 60-inch bathtub space.

Flooring
Flooring is an essential part of making a space accessible. Simply removing barriers or different potential hazards can reduce slips. Slip-resistant options such as vinyl or cork flooring can reduce falls and are wheelchair friendly.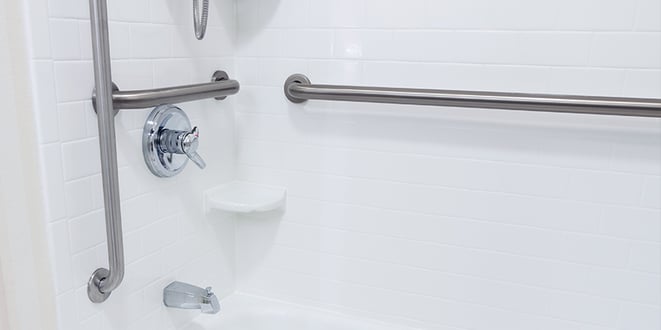 Grab Bars
Grab bars are an essential safety feature in multiple places of an accessible bathroom, especially inside a shower. Grab bars help someone transition from sitting to standing or someone who needs less assistance but may still lose their balance. Grab bars are also useful for entering and exiting the tub or shower.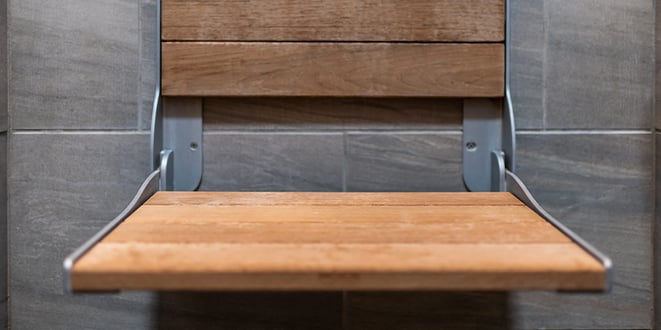 Other Resources
Other tools in an accessible shower include a removable shower chair and a handheld showerhead. These two features will help someone be more comfortable and stay safe while in the shower.
Getting in and out of the shower is one of the most hazardous activities. Because injuries in or near a bathtub or shower account for many emergency room visits, a bench next to your shower or bathtub can also be helpful for transferring in and out.
We have helped many homeowners achieve more independence with accessible bathroom remodels. To see one of our remodels and learn more about the possibilities of an accessible shower remodel, watch the video below.
At Kitchen and Bath Center, we specialize in upgrading bathrooms to be ADA-compliant. It is our honor and privilege to improve our Veterans' lives by working with them to remodel their homes through the VA's Adapted Housing Grants for Disabled Veterans (VA HISA Grant).
We will help you upgrade your bathroom and maximize your dollars to give you the highest quality remodel at the best value. Reach out to us if you have any questions about remodeling your bathroom to be more accessible.
Please note that our team only services the Florida Panhandle area.
DREAM IT. DESIGN IT. LIVE IT.

| Kitchen & Bath Center