Thanks to covid, you've likely spent the better part of the past year inside your home, and now that outdated kitchen or poorly laid out bathroom that was once just a minor annoyance has become the bane of your home-owning existence. You start looking into remodeling only to be floored by the estimates you're getting back.
Yes, unfortunately, renovation costs have risen significantly in the past year. And, yes, the pandemic is at least partly to blame. "COVID-19 likely caused scarcity and factory shutdowns, as well as supply chain disruptions and greater consumer demand for home services," said Mischa Fisher, Chief Economist for HomeAdvisor.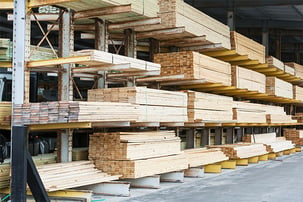 Lumber, in particular, has seen over a 200% price increase since April 2020, with many other popular building materials suffering a similar, albeit less extreme, trend. And with a lot of uncertainty surrounding if and when prices will come back down, homeowners looking to renovate can feel stuck between a rock and a hard place. Here are a few tips to help you navigate remodeling your home in this volatile situation.
Expect to Pay More
There's no way around it. The rise in material costs means tighter margins for contractors and increase prices for homeowners. Do your research, get multiple bids, but be wary of any quote that seems too good to be true. To beat out the competition, a contractor might offer you a low-ball price upfront, only to upsell you with additional add-ons and costs throughout the project.
No one can anticipate unforeseen costs and snags in a project, but the best thing you can do is be as detailed as possible when discussing the scope of your needs with a contractor. That way, they can give you the most accurate estimate. Also, once a plan is in place, stick with it. If you decide to make design changes halfway through a project, that will mean added cost and increased delays.
Expect it to Take Longer
While the pandemic brought a significant slowdown to materials manufacturing, construction needs continue to soar. Supply chains are still trying to catch back up to meet demand. This means not only are materials selling at a premium, there simply isn't enough to go around. Another unfortunate side effect of the disrupted supply chains is a decrease in choices. Manufactures are only producing the most popular items. All that being said, delays aren't ideal for anyone, but they are just the name of the game right now.
Be Realistic About your Budget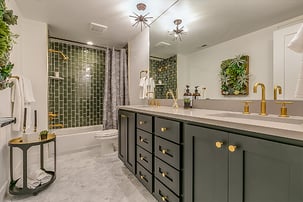 Start by looking at what are your absolute must-haves and then add on from there. Maybe you don't need that solid-gold toilet paper holder, or maybe you do. Now, more than ever, you're looking at finding that balance between value and cost. If you've got the budget, combining projects can help you save in the long run. However, even minor updates can greatly impact the value and your overall enjoyment of a space.
Hire a Quality Professional
We touched on this earlier, but who you hire to do the job can either make or break your experience. Besides the overall skill and quality of work, a reputable professional is honest and transparent throughout the project and is realistic about timelines, budget estimates, and existing issues. It can be tempting to go with the cheapest option out there, but if you get locked into a bad situation, you'll end up losing out on time and money if you have to switch contractors mid-project.
Keep Your Emotions in Check
Renovations can be stressful even without the price increases and delays brought on by a global pandemic. Unexpected costs and changing timelines are enough to play on anyone's emotions. Even the best contractors can't eliminate all unknowns, but if you've done your research and come in with the proper expectations, you can weather the uncertainty and breathe new life into your home.
DREAM IT. DESIGN IT. LIVE IT.

| Kitchen & Bath Center